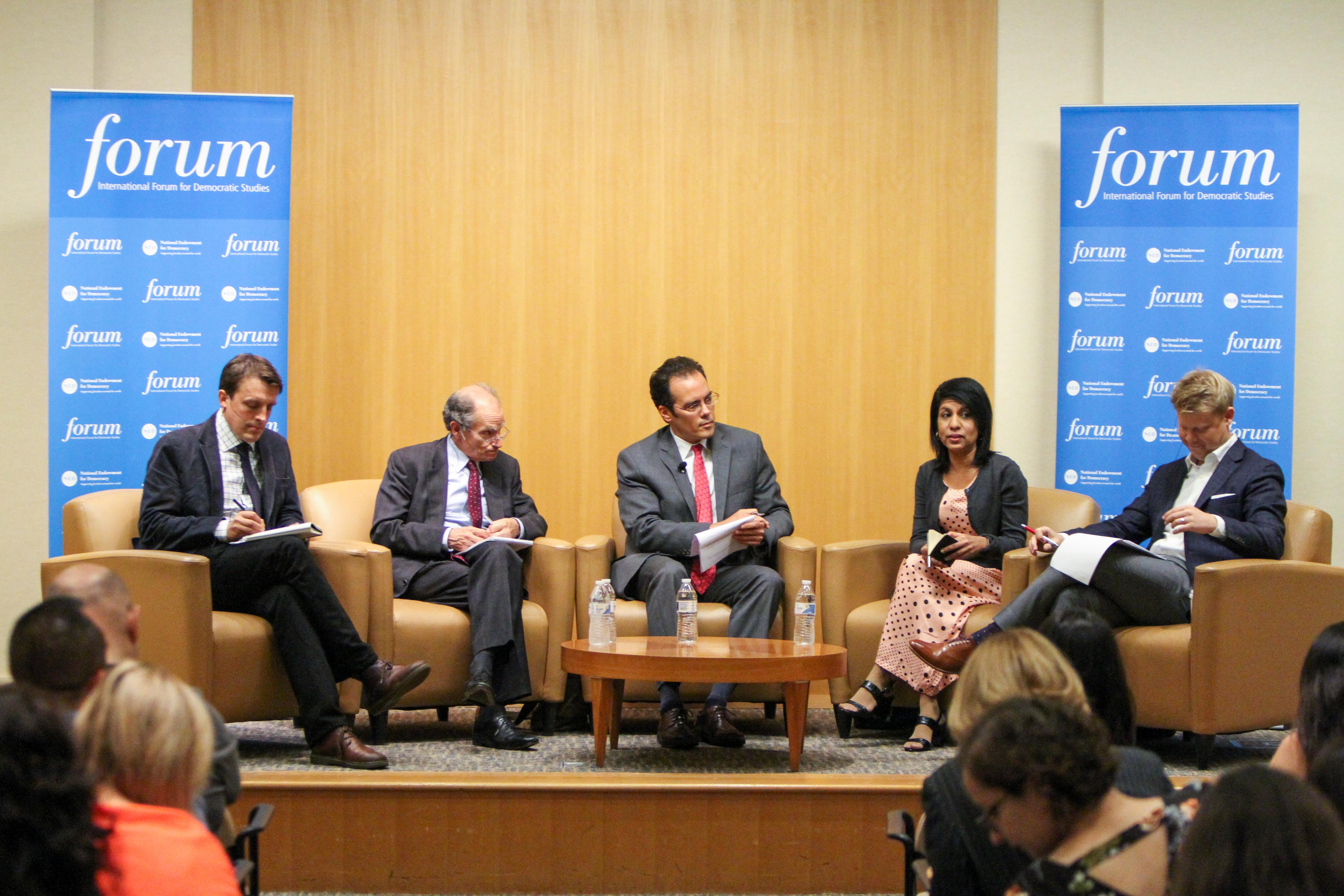 About the Event
With popular dissatisfaction over corruption increasing around the world, the term "kleptocracy" is often used as a catchall to describe any form of corrupt behavior by national elites. Yet transnational kleptocracy is a distinctive system of corruption in which local leaders divert massive amounts of public funds and harshly repress traditional avenues of accountability, oversight, and transparency. Propelled by globalization and the openness of the international finance system, kleptocratic regimes project their power beyond their borders, purchasing regional media outlets, hiring Western PR firms, and engaging international lawyers and bankers to launder their images and protect their wealth. Please join us as a distinguished panel of speakers—Oliver Bullough, Brett Carter, Ambassador Daniel Fried, and Cynthia Gabriel—discuss the unique features of transnational kleptocracy and how it is impacting democracy in Africa, Asia, Europe, Eurasia, and beyond.
featuring
Oliver Bullough, Author of Let Our Fame Be Great and Last Man in Russia
Brett Carter, University of Southern California
Ambassador Daniel Fried, Atlantic Council
Cynthia Gabriel, Center to Combat Corruption and Cronyism
moderated by
Christopher Walker, Vice President, Studies and Analysis, National Endowment for Democracy
About the Speakers
Oliver Bullough is an award-winning journalist, author, and commentator, specializing in the former Soviet Union and illicit money flows. Mr. Bullough previously served as Caucasus editor for the Institute of War and Peace Reporting, a security correspondent with Reuters Moscow, co-editor of The Times of Central Asia, and deputy editor of Pulse magazine in St. Petersburg. He has written two non-fiction books about Russian history and politics: The Last Man in Russia, and Let Our Fame Be Great. He is currently writing his third book entitled Moneyland: How the Rich Inherited the Earth.
Brett Carter is an assistant professor of international relations at the University of Southern California and co-principal investigator of the Lab on Non-Democratic Politics. He received a Ph.D. in political science from Harvard University in 2014, where he was a graduate fellow at the Harvard Academy for International and Area Studies. He previously served as a fellow at Stanford University's Center on Democracy, Development, and the Rule of Law, as well as the Hoover Institution. Dr. Carter's research focuses on autocratic politics in the information age. He is currently working on three book projects: one on autocratic survival in post-Cold War Africa, one on autocratic propaganda, and one that examines the Foreign Agents Registration Act to explore the role of autocratic money in American politics.
Daniel Fried is a distinguished fellow at the Atlantic Council's Future Europe Initiative and Dinu Patriciu Eurasia Center. In the course of his forty-year Foreign Service career, Ambassador Fried played a key role in designing and implementing American policy in Europe after the fall of the Soviet Union. As special assistant and NSC senior director for Presidents Clinton and Bush, ambassador to Poland, and assistant secretary of state for Europe (2005-09), Ambassador Fried crafted the policy of NATO enlargement to Central European nations and, in parallel, NATO-Russia relations, thus advancing the goal of Europe whole, free, and at peace. Ambassador Fried helped lead the West's response to Moscow's aggression against Ukraine starting in 2014: as State Department coordinator for sanctions policy, he crafted US sanctions against Russia, the largest US sanctions program to date, and negotiated the imposition of similar sanctions by Europe, Canada, Japan, and Australia.
Cynthia Gabriel is a human rights advocate and anti-corruption leader in Malaysia. She has spent most of her professional life in the field of advancing and promoting human rights, good governance and democratic freedoms. She founded the Centre to Combat Corruption and Cronyism (C4), a NED grantee, which works to promote good governance and conducts a multifaceted project designed to encourage public participation in efforts to combat corruption. Previously, she has served as the Vice President of the Paris-based global advocacy group, International Federation for Human Rights (2004-2009).
---
All cameras and media must register with NED public affairs. Please email press@ned.org to register as a member of the press.
Twitter: Follow @ThinkDemocracy and use #NEDEvents to join the conversation.