presented by
The International Forum for Democratic Studies at the National Endowment for Democracy and The Legatum Institute, in association with World Affairs and Democracy Lab.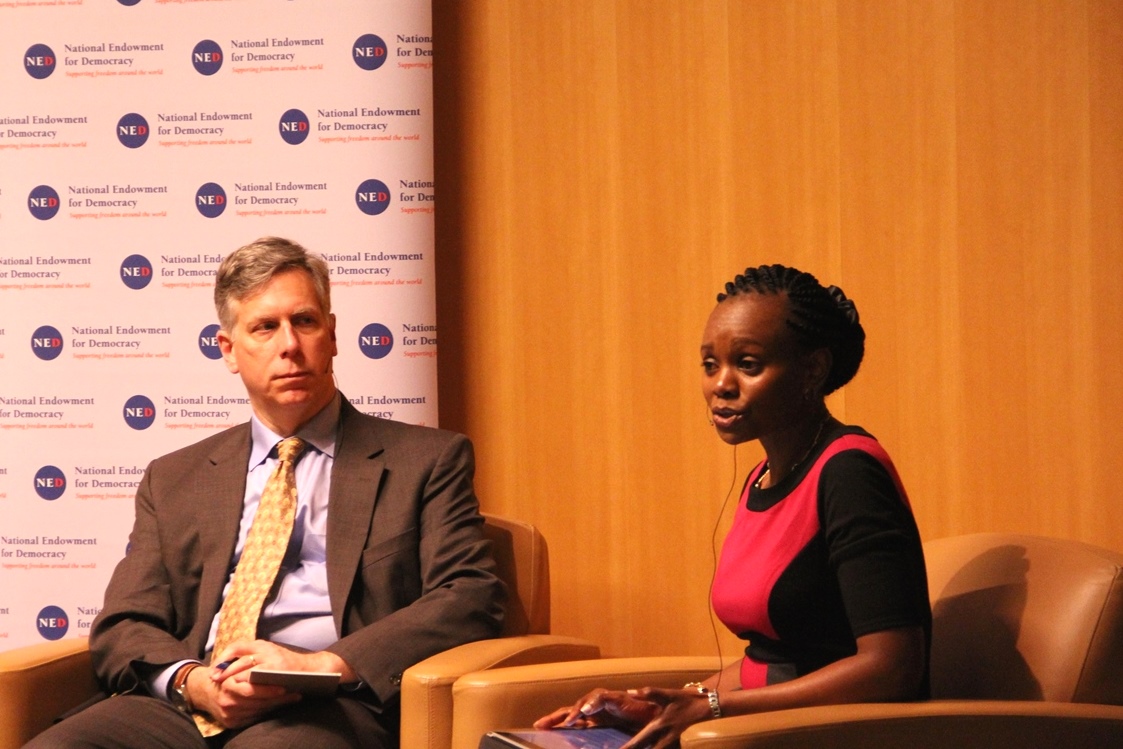 with
Introductory Remarks
John Sullivan, Executive Director, Center for International Private Enterprise
Moderated by
Peter Lewis, Associate Professor and Director of the African Studies Program at Johns Hopkins University School of Advanced International Studies
Thursday, October 17, 2013
4:00–5:30 pm
View photos from the event on the Forum's Facebook page.
About the Event
After teetering on the brink of civil war in the aftermath of post-election violence in 2007, Kenya achieved significant reforms which helped to promote a peaceful electoral process in 2013 that contributed to a strengthening of its democracy. Following this success, stabilizing the economy is now essential to allow Kenya to consolidate its democratic progress and meet the rising expectations of society.
Kenya requires further reforms to maintain strong economic growth, reduce unemployment, and create entrepreneurial opportunities for the long-term. Drawing upon her experience in the private sector working with both government and international partners, Carole Kariuki discussed why economic reform is integral to Kenya's democratic progress.
The Kenya case study is the third lecture in a series on "The Role of Economics in Democratic Transitions" organized by the Legatum Institute, the National Endowment for Democracy's International Forum for Democratic Studies, and World Affairs that explores the link between economic reform and political transitions.
About the Speakers
Carole Kariuki is CEO of the Kenya Private Sector Alliance (KEPSA), a consortium seeking to create a vibrant business environment in Kenya and East Africa. Carole was appointed the CEO of KEPSA in 2010 at the age of 35 and has more than 10 years of experience working with governments and the private sector. Prior to her appointment as CEO she had previously worked with Barclays Bank in Kenya and was a Research Fellow and later an Associate at the Sagamore Institute for Public Policy Research in Indianapolis. During this time she initiated and led the Africa Program. She holds a Masters in Public Administration and International Affairs from the Bowling Green State University in Ohio and a Bachelor of Arts (Honors) in Economics and Sociology from the University of Nairobi.
Peter Lewis is an associate professor and the director of the African Studies Program at Johns Hopkins University's School of Advanced International Studies. His research and teaching focus on economic reform and political transition in developing countries, with particular emphasis on governance and development in sub-Saharan Africa. His most recent book, Growing Apart: Oil, Politics, and Economic Change in Indonesia and Nigeria (Michigan, 2007), is concerned with the institutional basis of economic development. He is also a member of the International Forum for Democratic Studies Research Council.
John Sullivan is the executive director of the Center for International Private Enterprise (CIPE), a Washington-based organization that aims to strengthen democracy around the globe through private enterprise and market-oriented reform. Under Sullivan's leadership CIPE has developed a number of innovative approaches that link democratic development to market reforms. He is a member of the Council on Foreign Relations, the Russian Institute of Directors' Advisory Board, the Bretton Woods Association, and the American Political Science Association.