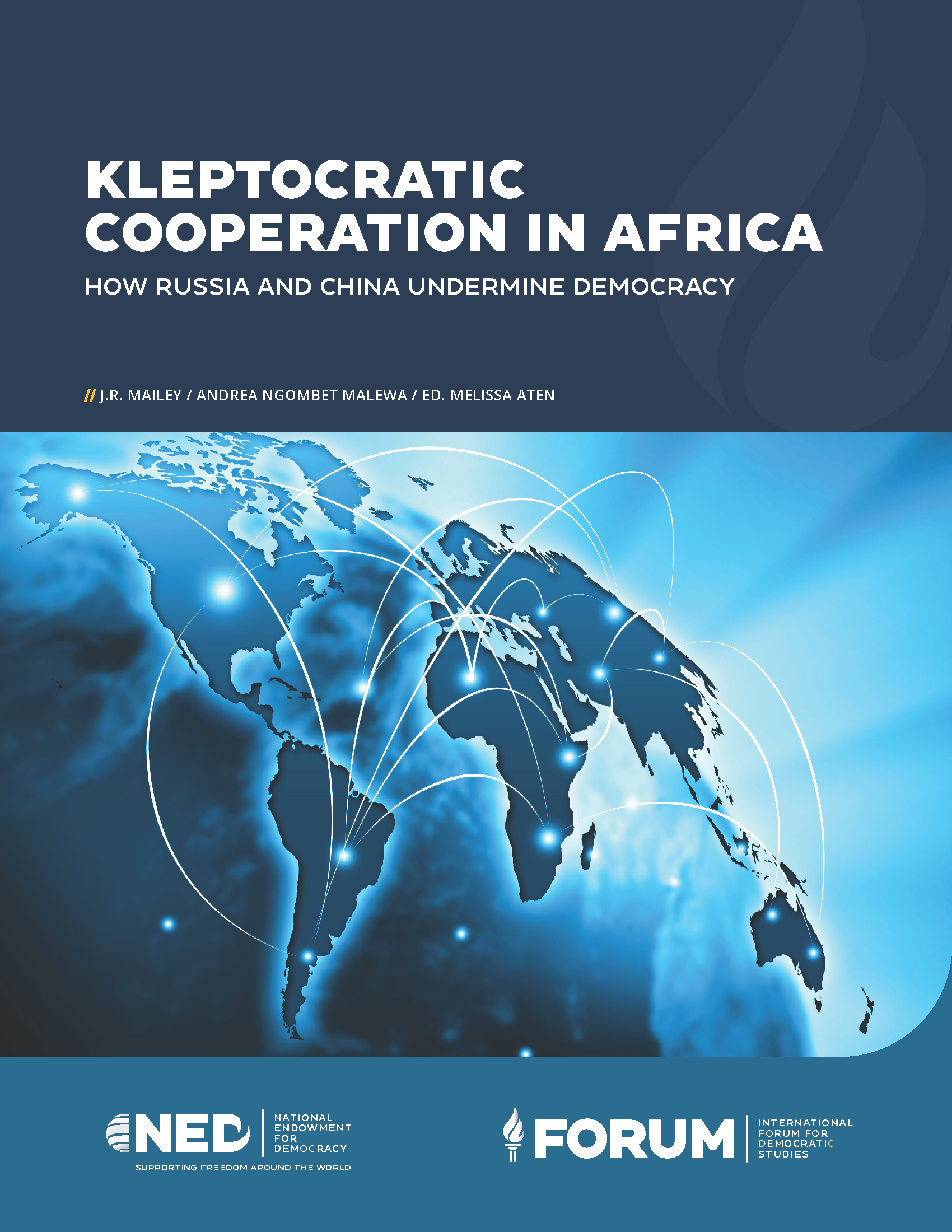 KLEPTOCRATIC COOPERATION IN AFRICA, THE INTERNATIONAL FORUM'S LATEST REPORT, AUTHORED BY J.R. MAILEY AND ANDREA NGOMBET. EDITED BY MELISSA ATEN.
In August, the International Forum released a new report entitled Kleptocratic Cooperation in Africa: How Russia and China Undermine Democracy. In "Criminal States, Militarized Criminals, and Profiteers: Russia, Africa, and the Evolving Ecosystem of Transnational Kleptocracy," J.R. Mailey (Global Initiative Against Transnational Organized Crime) dissects the Wagner Group's illicit activities in key parts of Africa. The essay by Andrea Ngombet Malewa (Sassoufit Collective), "How China Fuels African Kleptocratic Networks: The Case of Congo-Brazzaville," highlights the ways in which China facilitates Congo-Brazzaville's deeply kleptocratic regime. The report is available to read on the Forum's website.
On Wednesday, September 6th, at 2:00 PM EDT, please join the International Forum, the report authors, and Jodi Vittori (Georgetown University) for a virtual discussion on how Russia and China provide surge capacity to kleptocratic networks in Africa, drawing on findings from the latest Forum report. NED President Damon Wilson will open the event. The Forum's senior program officer for transnational kleptocracy, Melissa Aten, will moderate the discussion.

The Kremlin's full-scale invasion of Ukraine in 2022 showcased to the world the grave national security threat that kleptocracy poses to democracy. In the months following the invasion, the U.S., U.K., and allies took action against the corrupting activities of Kremlin-backed actors. Over the past year, in certain respects, momentum has stalled. Given the critical importance of sustaining attention on the scourge of transnational kleptocratic networks, the Forum has maintained a dedicated focus on how civil society can adapt responses to this defining challenge to democracy.

The International Forum's Transnational Kleptocracy Hub The International Forum features all transnational kleptocracy-related work on the Transnational Kleptocracy Research Hub. The hub is frequently updated with new analysis and commentary from scholars, practitioners, and civil society activists within our network. Resources include regular Forum reports, events, blog posts, and more.

Defining Global Challenges to Democracy: Transnational KleptocracyAhead of the Summit for Democracy, the Forum released a series of issue briefs on the defining global challenges to democracy, including combating transnational kleptocracy. The brief featured four key principles for addressing the challenge:
Building transnational networks to expose kleptocracy.
Defending key anti-kleptocracy organizations and individual activists.
Addressing vulnerabilities in open societies.
Sustaining momentum in the battle against transnational kleptocracy.
---