NED Library recommended reads
The following is a selection of books and articles recommended by the NED library. Take a look at our Democracy Award reading list! This year's Democracy Award honors Ukrainian civil society. Check out the full list here. Learn more about NED's library here. Learn about the awardees here.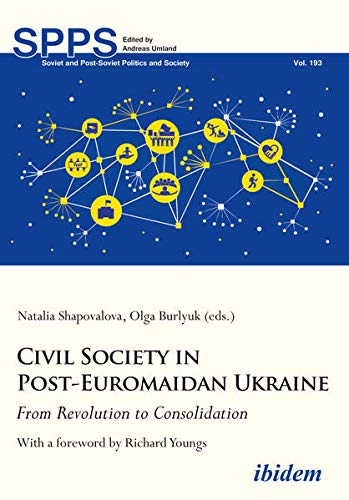 Civil Society in Post-Euromaidan Ukraine: From Revolution to Consolidation by Richard Youngs, Natalia Shapovalova, Olga Burlyuk
"This book is among the first comprehensive efforts to collectively and academically investigate the legacy of the Euromaidan in conflict-torn Ukraine within the domain of civil society broadly understood. The contributions to this book identify, describe, conceptualize, and explain various developments in Ukrainian civil society and its role in Ukraine's democratization, state-building, and conflict resolution by looking at specific understudied sectors and by tracing the situation before, during, and after the Euromaidan. In doing so, this trailblazing collection highlights a number of new themes, challenges, and opportunities related to Ukrainian civil society. They include volunteerism, grassroots community-based activism, social activism of churches, civic efforts of building peace and reconciliation, civic activism of journalists and digital activism, activism of think tanks, diaspora networks and the LGBT movement, challenges of civil society relations with the state, uncivil society, and the closing of civic space." — Provided by publisher.
---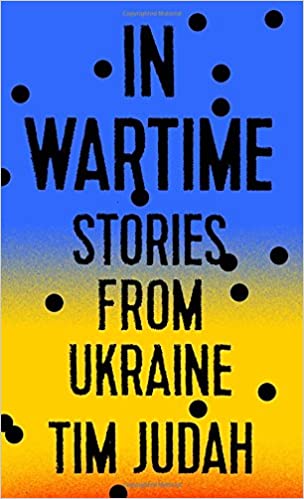 In wartime: Stories from Ukraine
by Tim Judah
"From one of the finest journalists of our time comes a definitive, boots-on-the-ground dispatch from the front lines of the conflict in Ukraine. Ever since Ukraine's violent 2014 revolution, followed by Russia's annexation of Crimea, the country has been at war. Misinformation reigns, more than two million people have been displaced, and Ukrainians fight one another on a second front–the crucial war against corruption. With In Wartime, Tim Judah lays bare the events that have turned neighbors against one another and mired Europe's second-largest country in a conflict seemingly without end." — Provided by publisher
---
ARTICLES
---
Why Ukraine's Fight Against Corruption Scares Russia
by Daria Kaleniuk and Olena Halushka of the Anti-Corruption Action Center, a 2022 Democracy Award Honoree
"Despite the challenges Ukraine faces, it is a real electoral democracy that has experienced a peaceful transition of power and has genuine political competition, and it is closer than ever before to becoming a role model of successful democracy in action. This is exactly what Russian President Vladimir Putin's autocratic regime fears. Having tried to undermine Ukraine through military and hybrid aggression, Putin now threatens a large-scale invasion to destroy the country—not only because it is successfully undergoing comprehensive domestic transformation but, more importantly, because it has the potential to trigger similar democratic reforms in Russia. If the West is serious about defending democracy, Ukraine is the right place to prove its words with deeds. Right now, Ukraine's democracy is facing an existential threat from Russia. The biggest support the West could give to sustain domestic reform achievements would be helping the country hold its ground against external aggression." — Article Excerpt
---
Putin's bombs were supposed to break us in Ukraine. They are doing the opposite.
by Nataliya Gumenyuk, CEO of the Public Interest Journalism Lab, a 2022 Democracy Award Honoree
"Despite the many positive surprises we have seen during the war – including the strength of the Ukrainian army, which has shown itself to be more efficient compared to Russia's poorly organised troops – for Ukrainians, it is going on exactly as we imagined. We knew that if we were attacked, it would last a long time. I've head many times that Ukrainians should manage their expectations, and that "compassion fatigue" is inevitable from the west. But Ukrainians aren't asking for compassion: we're asking for solidarity. We're fighters, not powerless victims. Yes – Ukrainians are adjusting to the war, and trying to make daily life more bearable, as the people who put flowers near their beds in the Kharkiv metro attest. But this doesn't mean we have to normalise the conflict. Discussions about rebuilding the country and victory come not from naivety: they are rooted in the knowledge that we can't afford to waste energy and time explaining why things are impossible. We need to preserve our strength to prove the opposite is true." — Article Excerpt
---
For the Kremlin, war crimes are not mistakes but tactics
by Oleksandra Matviychuk, Chair of the Center for Civil Liberties, a 2022 Democracy Award Honoree
"Understandably the world is now focusing on the Russian military build-up on the Ukrainian border, surrounding the country with some 140,000 troops. But it is important to remember that since 2014 a whole chunk of Ukrainian territory has been cut off from the rest of the country by an iron curtain and run by proxy armed groups bankrolled by Vladimir Putin's regime. What is happening now at Ukraine's border is not about "geopolitics" – it is about defending democracy and stopping an authoritarian model from expanding. Ukraine happens to be at the forefront of this battle and it needs help. If we do not stop Putin now, he will find another target soon, perhaps in the heart of the European Union." — Article Excerpt
---
God's mode on: Five lessons from the volunteer movement in times of full-scale war
by Anna Bondarenko, Founder of the Ukraine Volunteer Service, a 2022 Democracy Award Honoree
"We have been engaged in the development of volunteering and mutual assistance for five years. We have different experiences. But we, like the entire volunteer movement, during the war had to mobilize as much as possible and quickly learn from the new reality. Here are five lessons we learned in two months of war." — Article Excerpt (Translated to English)
---
The Maidan and Beyond: Civil Society and Democratization
by Lucan Way
"The current crisis in Ukraine raises key questions about the relationship between civil society, protest, and democracy in hybrid or competitive authoritarian regimes. How can we know when civil society is strong or weak? What role does it play in mobilizing antiregime protest? When does civil society aid democratic development, and when does it threaten to harm that process? A closer look at the crisis shows both that Ukraine's civil society is weaker than it may seem and that not all civil society is good for democracy. In particular, as Ukraine faces potential civil war, civil society must find ways to mobilize society without splintering the polity and encouraging greater violence. — Article Abstract
---
The Maidan and Beyond: Finding Ukraine
by Nadia Diuk
"Ukrainians flocked to the Maidan to express a "choice for Europe," but they may also have forged the beginnings of a new Ukrainian identity. Events in Ukraine present the post–Cold War order in Europe with a challenge deeper than any it has ever seen, and democratic prospects across a vast swath of Eurasia seem cloudier than before as the world wonders how much more "pushback" Vladimir Putin has planned against liberal democratic forces at home and abroad. Yet there is no reason to let trouble in the eastern reaches of the country impede the larger and necessary work of fitting Ukraine for transparent self-government." — Article Abstract