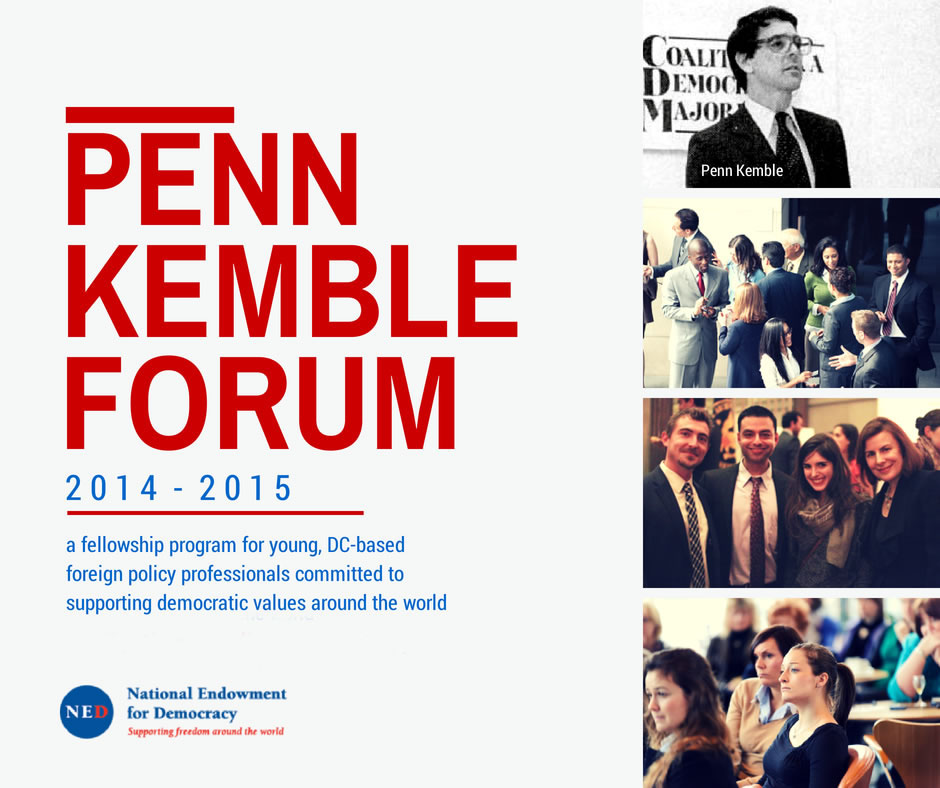 NED is proud to announce its inaugural cohort of Penn Kemble Youth Forum on Democracy Fellows. Named for one of the democracy movement's most committed activists and strategists, the Forum is an opportunity for mentorship, networking, and education for young professionals who share Kemble's commitment to advancing democracy around the world.
Through the Forum, which will run this year from October 2014 to June 2015, these young leaders will engage with leading foreign policy experts, democracy practitioners, civil society activists and former government officials. Fellows will also participate in a range of other events. This year's cohort is made up of 27 talented young professionals from government, non-profits, and the private sector.
The Forum is organized and sponsored by the National Endowment for Democracy with the assistance of distinguished advisory committee of scholars and practitioners.
Read Joshua Muravchik's article on Penn Kemble here.
Penn Kemble Youth Forum Advisory Committee
Ellen Bork, The Foreign Policy Initiative
James S. Denton, World Affairs
Joseph Eldridge, American University
Jack A. Goldstone, George Mason University
Barak D. Hoffman, World Bank Group
Michael Kimmage, Catholic University of America
Rachel Kleinfeld, Truman Security Project
Joshua Muravchik, Foreign Policy Institute
Azar Nafisi, Johns Hopkins School of Advanced International Studies
Jesse Nickelson, United States Holocaust Memorial Museum
Bill Sweeney, International Foundation for Electoral Systems
Vladimir Tismăneanu, University of Maryland, College Park
Sharon L. Wolchik, Elliott School of International Affairs