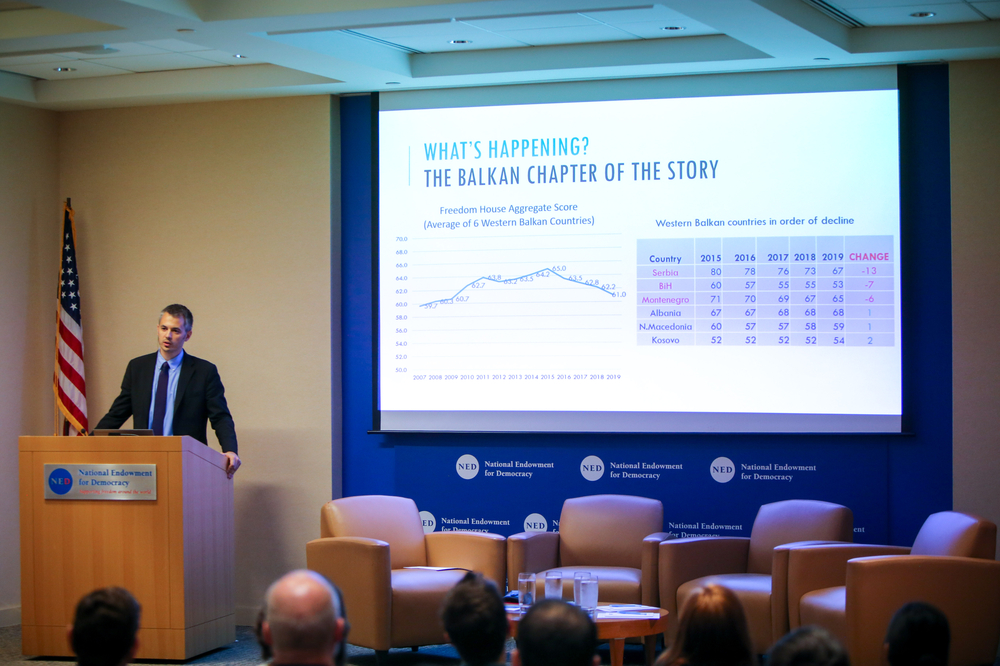 On May 2, 2019, the National Endowment for Democracy hosted a discussion on the state of democracy in the Western Balkan countries aspiring to EU membership, including Albania, Bosnia and Herzegovina, Kosovo, Montenegro, North Macedonia, and Serbia. The event's featured speaker was NED Reagan-Fascell Democracy Fellow Agon Maliqi, a Kosovo-based policy analyst, activist, and journalist.
Mr. Maliqi is the creator and co-founding editor of sbunker.net, a NED-funded Albanian-language current affairs blog geared towards young activists, analysts, and writers in the Western Balkans. A frequent TV and radio commentator on current affairs in the region, he has also worked as an independent policy consultant. While initially working on good governance and human development projects, he has focused more recently on pushing back against authoritarian governance due to growing concerns over security threats and democratic backsliding in the region. As a Reagan-Fascell fellow, he is looking at how to mobilize and build a constituency for liberal democracy to combat rising illiberalism and skepticism about democracy. Mr. Maliqi is the Endowment's first ever Reagan-Fascell fellow from Kosovo.
In his presentation to a standing-room only audience at NED, Mr. Maliqi reviewed the recent history of the Western Balkans. This included several years of democratic gains across the region up to 2014, generally due to enthusiasm for EU candidacy (all of the region's countries remain official candidates except for Bosnia and Herzegovina and Kosovo, which are "potential" candidates). Starting in 2015, however, popular support for democracy has plummeted in Serbia, Bosnia and Herzegovina, and Montenegro, and in Mr. Maliqi's words, has "stagnated" in Albania and Kosovo.
Mr. Maliqi termed the situation an "illiberal equilibrium" that includes three key components. First, elections are won but meaningful democratic choice is limited, due to a combination of weak institutions, oligarchs, state-controlled media and unappealing oppositions. Second, authoritarian forces have capitalized on bilateral and ethnic disputes in the region. Finally, regional security concerns have empowered the political status quo.
The event included introductory remarks by Ivana Cvetkovic Bajrovic, NED's Associate Director for Europe. Ms. Bajrovic briefly discussed the recent democratic backsliding in Southeast Europe, and the international concern regarding Russia and China's successful efforts to undermine and reverse the region's democratic gains. Mr. Maliqi's panel also included regional experts Molly Montgomery from the Albright Stonebridge Group and formerly of the U.S. State Department, and Jasmin Mujanovic, a media commentator and policy expert on the region, and the author of Hunger & Fury: The Crisis of Democracy in the Balkans.
To watch a video broadcast of this event, please click here.