The global vaccination campaign kicks into gear as India jumpstarts its process of supplying vaccine doses to the WHO-backed COVAX initiative.
The COVID-19 pandemic has emphasized the need to encourage greater transparency and accountability concerning government spending, as corrupt government leaders take advantage of rapid relief resources and social spending to enrich themselves.
Civil society organizations learned to adapt their practices and models in light of the public health crisis to improve economic frameworks and bolster democratic integrity within their home countries.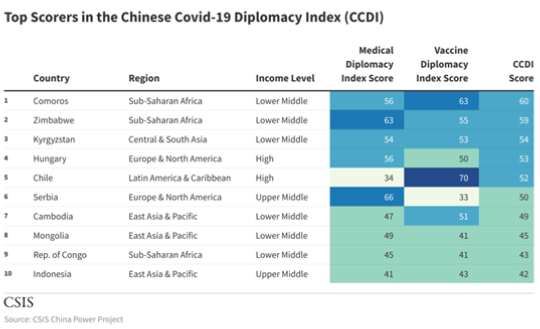 Source: ChinaPower, "Is China's Covid-19 Diplomacy Succeeding?" CSIS, September 23, 2021, Updated September 30, 2021, accessed October 18, 2021, https://chinapower.csis.org/china-covid-medical-vaccine-diplomacy/.
Mixed Results from the PRC's Pandemic Diplomacy

The phenomenon of the PRC's "COVID diplomacy"—or the leveraging of medical aid and vaccine distribution to bolster the country's standing and further the Chinese Communist Party's (CCP) agenda—has thus far yielded mixed returns for Beijing. At the outset of the crisis, the CCP turned to "medical diplomacy," or mobilizing shipments of personal protective equipment (PPE) and deploying medical teams overseas. In 2020, China sent $78.3 billion worth of PPE abroad, making it the number one global exporter (in comparison, Germany—the second highest exporter—distributed $18.1 billion worth of PPE). As of September, China has agreed to export over one billion vaccines abroad and, thus far, 103 countries have received various amounts of PRC-sourced vaccine doses. Granted, PPE and vaccine exports from the PRC have been marred with controversy, from shipments of poor-quality tests and equipment, to lingering questions regarding the efficacy of PRC-produced vaccines, particularly against the Delta variant. Moreover, the vast majority of PRC-produced vaccines are sold, as opposed to donated, and thus are often unattainable for low-income countries.

Although PRC policymakers decry the notion that the country's COVID assistance is politically motivated, China strategically leverages these tools to bolster the country's global image. Early evidence suggests mixed results. In some instances, China's diplomacy has seemingly reaped the rewards of tying its vaccine distribution to unrelated political goals that can undermine democratic principles: Ukraine withdrawing its support for a statement calling for scrutiny of human rights abuses in Xinjiang, Brazil unexpectedly allowing Huawei to take part in the country's 5G auction, and Guyana canceling an agreement to establish a Taiwanese trade and investment office in Georgetown comprise only a few examples. On the other hand, as the Center for Strategic and International Studies' ChinaPower recently noted, China's COVID diplomacy has also stalled or—in some instances—backfired. These narrow political gains have been largely contained to countries with whom the PRC already had close ties (for a list of the ten countries where medical diplomacy had the largest impact see CSIS' "Top Scorers in the Chinese Medical Diplomacy Index"). In some cases, CCP pressures on recipient countries to publicly convey their recognition and gratitude for medical aid—a tactic deployed in Germany and Poland, among others undermined the effort to breed positive sentiment.

One thing is certain: China's COVID diplomacy is not merely soft power—it's sharp power. As my colleagues Kevin Sheives and Ryan Arick previously noted, authoritarian actors like China are exploiting the global demand for vaccines for their own ends: spreading disinformation, prioritizing rapid distribution over efficacy, targeting elites, and seeking unrelated political rewards in exchange. Evidently, China's medical diplomacy constitutes a new iteration of sharp power or the distortion, manipulation, and penetration of global democratic norms and institutions by authoritarian actors. As such, democratic stakeholders should ensure institutional integrity and safeguard against authoritarian encroachment; to name a few strategies, media figures can shine a light on authoritarian influence efforts and state actors must consider the long-term risks of securing vaccines from autocratic governments. Such efforts can help counter ongoing, existential threats to democratic governance amid the pandemic.

– Ariane Gottlieb, Program Assistant for the International Forum for Democratic Studies

China is Pushing its Own Narratives of the COVID-19 Pandemic's Origins, Including Through Search Engines: Lingering questions regarding the origins of the COVID-19 virus continue to fuel an often acrimonious public discourse. Nevertheless, in a virtual discussion sponsored by Science, four experts concurred that there is still room for meaningful debate over whether the coronavirus has a zoonotic or manmade origin, despite rampant politicization of the question. In one example of such politically-motivated manipulation, a report by the Alliance for Securing Democracy revealed how the CCP amplifies unsubstantiated theories of the virus' origins on social media—particularly, the notion that the coronavirus was manufactured at a military base in Maryland. These influence operations exploit "data voids"—subjects about which there is a scarcity of reliable information—to flood search engine results with disinformation and crowd out fact-based, objective debate.

The Myth That Democracies Bungled the Pandemic (The Atlantic): Justin Esarey, an associate professor at Wake Forest University, pushes back against the notion that authoritarian regimes are more effective at managing crises such as the COVID-19 pandemic. Amid a growing sense of disenchantment with democracy's responses to the coronavirus, undemocratic actors such as the CCP argue that highly centralized governments have managed the situation more effectively. Yet data indicate that democracies are at least equal to, if not more successful than, authoritarians with regards to vaccinations per capita. Moreover, an analysis of excess deaths by country reveals the same finding about COVID-19 mortality rates, which are sometimes manipulated by undemocratic governments.

India Jumpstarts its Program to Help Vaccinate the World (Foreign Policy): When the World Health Organization (WHO) announced its plan to distribute vaccines to low-income countries through the COVAX Initiative, India pledged to manufacture and supply nearly one third of these doses; yet, it halted vaccine exports due to a stalled domestic vaccination rollout in the country. India has since increased its manufacturing capacity such that it can resume exporting vaccines to neighboring countries and COVAX, but policymakers stipulate that only excess vaccines will be sent abroad. The WHO confirmed that Indian vaccine exports will be necessary but insufficient to meet the global demand. Meanwhile, experts predict that hoarding doses in wealthier countries will further exacerbate disparities in accessing vaccines between high and low-income states.

WHO Starts Shipping COVID-19 Medical Supplies to North Korea, Although Vaccines Remain Stalled (Associated Press): Although North Korea previously turned down an offer for three million Sinovac vaccines via COVAX, the WHO is now working with officials in Pyongyang to ensure that the country meets the conditions to receive vaccines through the program. Analysts have suggested multiple explanations for North Korea's stalled vaccine receipt and rollout, including hesitancy among policymakers about compliance with international monitoring requirements, ambitions by Kim Jong Un to tighten the country's lockdown as a means of securing his domestic power, or a desire to receive alternative vaccine doses which are potentially more effective than Sinovac.

Civil Society and the Global Pandemic: Building Back Different? (Carnegie Endowment for International Peace): During the pandemic, civil society organizations altered their practices to adapt to novel challenges and developments in the economic, political, and geopolitical spheres. As the public health crisis inflicted severe financial strain on economies around the globe and exacerbated political and geopolitical tensions, civil society actors worked to improve economic frameworks and bolster democratic integrity. Furthermore, many civil society groups shifted their focus to approaches that emphasized community links and activism, allowing CSOs to address local concerns directly and fill crucial gaps in government pandemic relief measures.

International Monetary Fund Calls for Transparency and Accountability for COVID-19 Relief Funds in Africa (Daily Monitor). Such transparency will be critical for ensuring that the funds bring about meaningful and sustainable economic recovery for countries suffering from economic hardship triggered by the pandemic and climate change. Despite the allocation of approximately $33 billion to countries across Africa—part of the largest Special Drawing Rights (SDR) in the IMF's history—this funding will likely be insufficient to curb the severe economic strain currently affecting the continent, and African Ministers of Finance are calling for further assistance to ensure that economic recovery needs are met.

COVID-19 has Accelerated Central and Eastern Europe's Use of Digital Tools, Despite Opacity Concerns: In Romania, the pandemic "spurred the authorities to introduce legal changes and deploy new technological solutions that had hitherto been postponed," with public institutions shifting to accept digital signatures, offering new electronic payment options, and setting up online platforms for scheduling vaccinations and applying for aid. Beyond making e-governance tools available to citizens, some governments are relying more on digital systems to inform their own decisions. In Poland, officials are using an algorithmic tool to find irregularities in grants of pandemic aid for entrepreneurs. While many hope that such systems will counter corruption, opacity around the digital tool itself remains a concern. Poland's Anti-Corruption Bureau reportedly refused to answer questions about the system's procurement, costs, and oversight. The case underscores broader quandaries around automated decision-making in the public sector, recently profiled in a collaborative report by NGO researchers.

PRC Companies Export Surveillance Instruments for COVID Control, with a Catch: For many PRC companies that offer biometric surveillance and medical testing services, the COVID-19 pandemic opened up a wealth of global sales opportunities. Yet, as anthropologist Darren Byler reminds us, firms that purchased heat-mapping and other COVID-related tech from vendors such as Dahua may have effectively acquired the products of China's racialized system of digital repression in Xinjiang. Byler recounts the experience of a former University of Washington student who was caught up in Xinjiang's system of "flexible digital enclosures"—a web of surveillance hubs through which authorities restrict the movements of former detainees—after being imprisoned for the "pre-crime" of downloading a VPN. The oppressive system of which these controls are a part, he notes, has "opened up a space to train biometric surveillance algorithms." Beyond calling attention to the troubling business ties between firms based in democracies and China's surveillance state (also highlighted in a recent report by Top10VPN), Byler urges a rethinking of the assumptions underlying racialized surveillance worldwide.

COVID-19 Special: Corruption Thrives During the Pandemic (DW News): Record level emergency relief spending has helped profits soar for well-connected elites during the pandemic. Some countries in desperate need of humanitarian aid were found to overpay for PPE and other supplies through predatory public contracts. Weak institutional checks and balances and limited institutional capacity undermine states' responses to this brand of corruption. DW News discusses these allegations of corruption in Africa, including within Nigeria, Kenya, Zimbabwe, and South Africa. For example, in Kenya, fifteen so-called "COVID millionaires" who amassed wealth during the pandemic are under investigation for misusing COVID relief funds. And in Nigeria, allies of politicians are profiting off overpriced goods and services after receiving contracts for distribution and procurement of COVID-related supplies.

Vaccine Rollout in Latin America: "Medical Diplomacy" and Great Power Competition (Wilson Center): A new tool from the Wilson Center outlines vaccine diplomacy in Latin America, including an interactive map; graphs comparing doses donated, contracted, and administered; and other data visualizations. The graphs also depict which vaccines have been approved in each country, with the highest approvals for AstraZeneca, Pfizer, Sputnik V, and Sinovac. When comparing the total number of vaccines provided through donations and purchasing agreements to the region, the United States and China have provided nearly equal numbers of doses while Russia has lagged. An additional 45 million vaccines have been distributed to governments through COVAX, which has been supported predominately by the United States, Japan, and Europe.

Recently, the International Forum's Daniel Cebul authored a Power 3.0 blog post, "The Information Manipulation Risk from Audio-Based Group Chat Apps." The article details how antidemocratic actors exploit audio-based social media apps such as Clubhouse or Discord to disseminate disinformation and hate speech, extending but not limited to state propaganda and misinformation about COVID 19 vaccines. However, tech platforms and civil society can take steps to strengthen content moderation tools and strategies in such a way as to address the unique vulnerabilities inherent to audio-based social media.

"No Safe Haven": Commercial Spyware's Global Reach (Center for International Media Assistance): For the Center for International Media Assistance, Samuel Woodhams details how undemocratic actors weaponize commercial spyware to crack down on independent journalists based on his recent report, "Spyware: An Unregulated and Escalating Threat to Independent Media." State actors exploit surveillance technology to monitor journalists' phone calls, location, and photographs. Moreover, companies marketing this spyware are often based within liberal democracies, and state actors in democracies have done little to regulate their export. Woodhams calls for the implementation of ethical standards in the market, to ensure that such technology cannot be used to suppress free media expression.
Thanks for reading Pandemic Ploys, a biweekly newsletter from the International Forum.