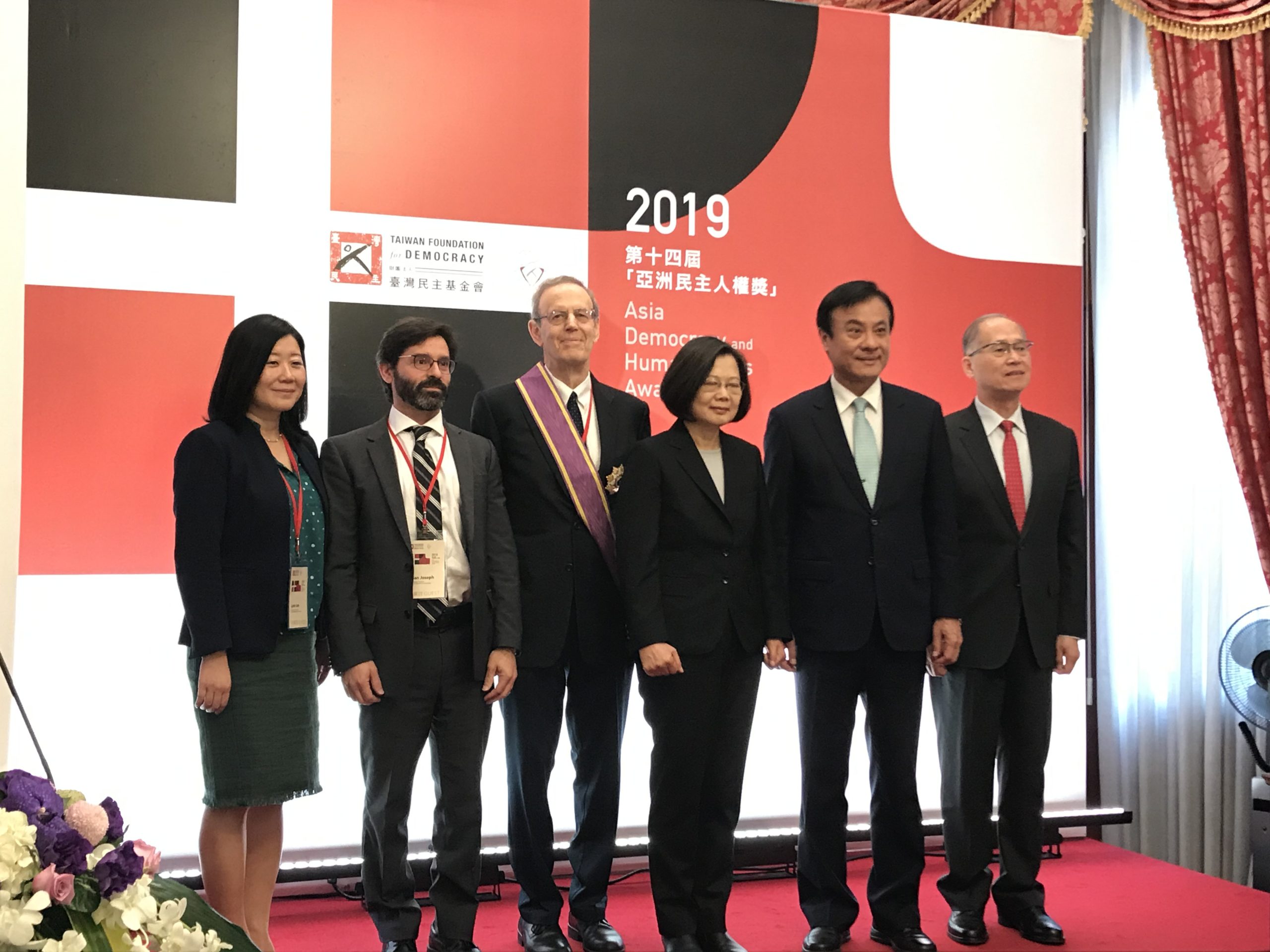 On December 10, 1979, democracy activists associated with Formosa Magazine organized a Human Rights Day rally in Kaohsiung, Taiwan, calling for the removal of a ban on political parties and the lifting of marital law which began in 1949. The demonstration erupted in chaos when police surrounded the crowd with tear gas, then launched a nationwide hunt for the leaders. Forty years later in Taipei, Taiwanese President Tsai Ing-Wen reflected on Taiwan's road to democracy and honored Carl Gershman, the President of the National Endowment for Democracy (NED), on Human Rights Day and the anniversary of the Kaohsiung Incident, considered a turning point in Taiwan's shift from authoritarian to democratic rule.
"The people of Taiwan have not forgotten this historical memory," said President Tsai. "Because they have not forgotten, democracy has gradually been consolidated in Taiwan, and today we are contributing to global democracy and human rights initiatives through the Asia Democracy and Human Rights Award." (See more of our Human Rights Day coverage.)
Speaking at an event organized by the Taiwan Foundation for Democracy (TFD) at the Taipei Guest House on December 10, 2019, President Tsai recognized Carl Gershman, the President of NED, with the Order of Brilliant Star with Grand Cordon for his exceptional contributions to further Taiwan-US relations over the past two decades. She also presented the 14th Asia Democracy and Human Rights Award on behalf of the TFD to the Diplomacy Training Program, an organization committed to advancing human rights and empowering civil society in the Asia Pacific region.
Reflecting on the democratic progress Taiwan has made since his first visit to Taipei 25 years ago, Gershman remarked: "Taiwan has consolidated a dynamic, stable, and successful liberal democracy, exemplified by President Tsai herself, who is the first woman to be elected President of Taiwan. Elsewhere in the world, however, democracy has entered a period of crisis." (Read the full speech by NED President Carl Gershman.)
Despite China's rise as a dictatorship, and the threat it poses to East Asia and the world, President Gershman said that Taiwan's democratic example — embracing the core principles of liberal democracy, including constitutional government, universal values, and free media – demonstrates that these principles are compatible with Confucian culture and not just a Western construct. "[Taiwan] offers a vision for a better future, a different kind of dream that may once again capture the imagination of the Chinese people."