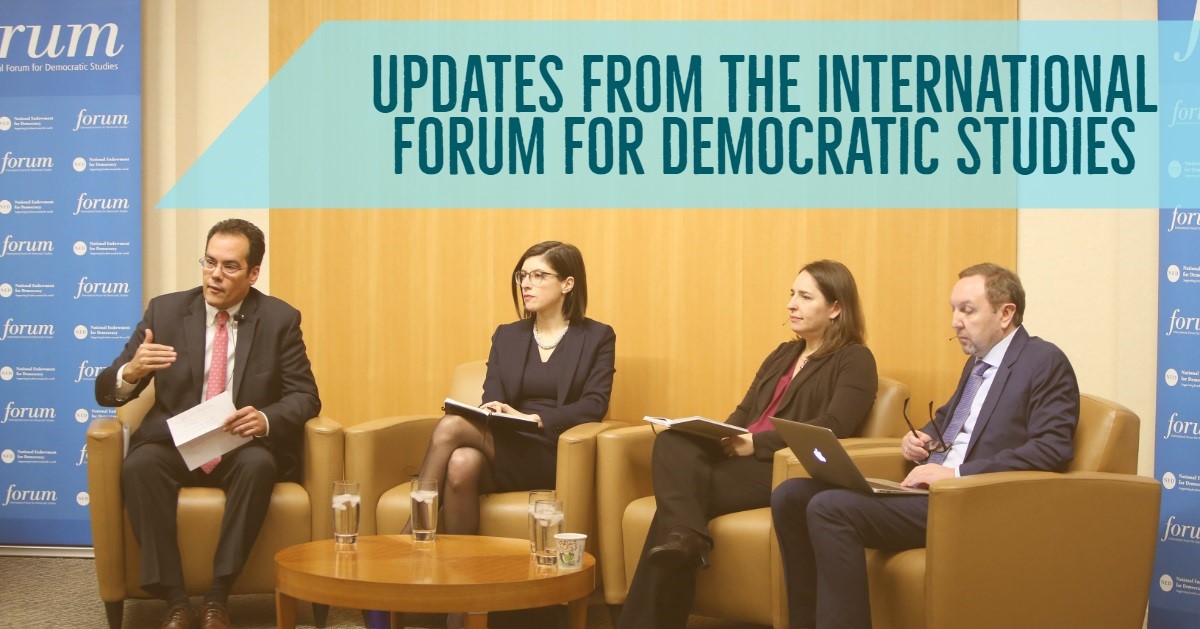 Publications
The July 2018 Journal of Democracy features an eight-article cluster on rising illiberalism in Central and Eastern Europe, an essay on authoritarian sharp power, and more.
The International Forum asks five leading experts: What is the Root Cause of Rising Illiberalism in Central and Eastern Europe?
Forum Q&A: Alex Magaisa on Zimbabwe's Upcoming 2018 Elections – Dr. Magaisa discusses new political dynamics and what they mean for the future of Zimbabwe in the context of the July 2018 elections.
Holly Dranginis and Debra LaPrevotte discuss how international law enforcement and investigative organizations can partner with local whistleblowers and eyewitnesses to trace stolen assets in "From Central Africa to Australia: Following the Kleptocrats' Money."
In "Countering Transnational Kleptocracy: How Democracies Can Lead the Way," Nate Sibley outlines a roadmap for democracies to take-on authoritarian, kleptocratic regimes.
Martin Hala explains China's strategic objectives in the international arena in "The 16+1 Initiative: China's Divisive Equation for Central and Eastern Europe."
Events
Drawing lessons from successful cases, Argentine journalist and civil society leader Maria Baron offers observations on strategies for forging ahead on "The Difficult Road to Transparency in Latin America."
During "Elections in Zimbabwe: Autocracy and Stasis, or Democracy and Change?" Dr. Alex Magaisa assesses preparations for the approaching elections in Zimbabwe and discusses the prospects for democratization, including possible post-election scenarios and the roles of the military and the international community.
Activist Passy Mubalama examines how the current political crisis affects women's rights in the DRC, and why the participation of women in politics and security is vital for the prospects of bringing peace and democracy to the country in "Why Women's Political Participation Matters in the Congo."
Pakistani journalist Nadeem F. Paracha explores the impact that viral hoaxes, rumors, and other forms of manipulated information can have through social media during "Has Freedom of Expression Become a Self-Parody? Examples from Pakistan's Social Media"
Democracies can cut off the life-blood of authoritarian regimes and criminal organizations by tackling rampant money laundering in the global financial system.

-Nate Sibley, Countering Transnational Kleptocracy: How Democracies Can Lead the Way