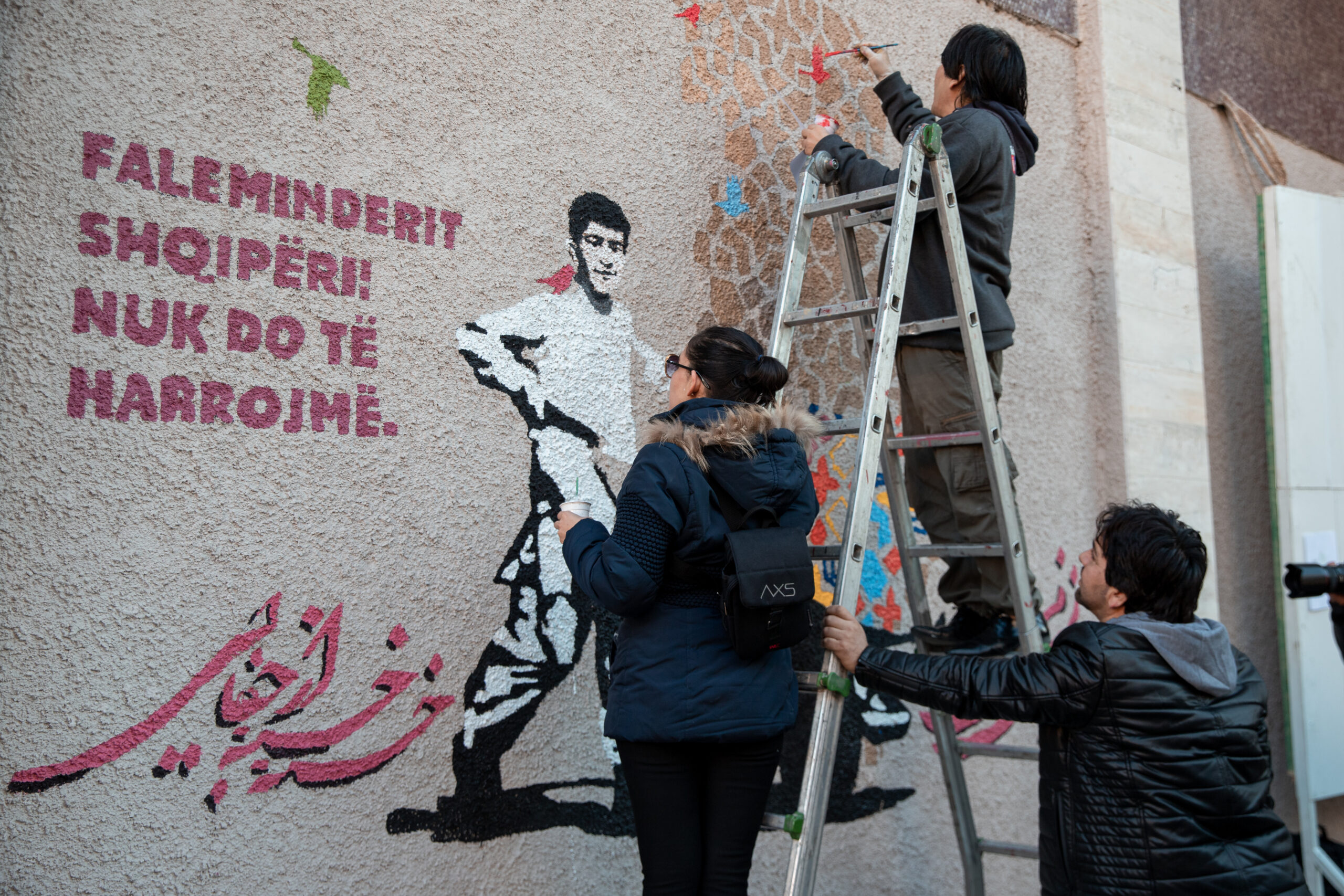 In January of 2021, I did not imagine that I would end the year helping to paint a mural in Albania with Afghan refugees as the president of the National Endowment for Democracy. Things change.
2021 was a year shaped by significant change at NED. In March, the Endowment moved to a new headquarters; in June, founding President Carl Gershman retired after 37 years of legendary leadership; in July, I was honored to succeed Carl as NED's second president; and in August, NED undertook an emergency effort to evacuate hundreds of partners and their families in Afghanistan whose lives and work were suddenly endangered when the Taliban seized control of the country as US forces withdrew. Simultaneously, the Endowment team continued to grow in response to increased resources, making nearly 2,000 grants in a record 102 countries—all during the continuing Covid-19 pandemic.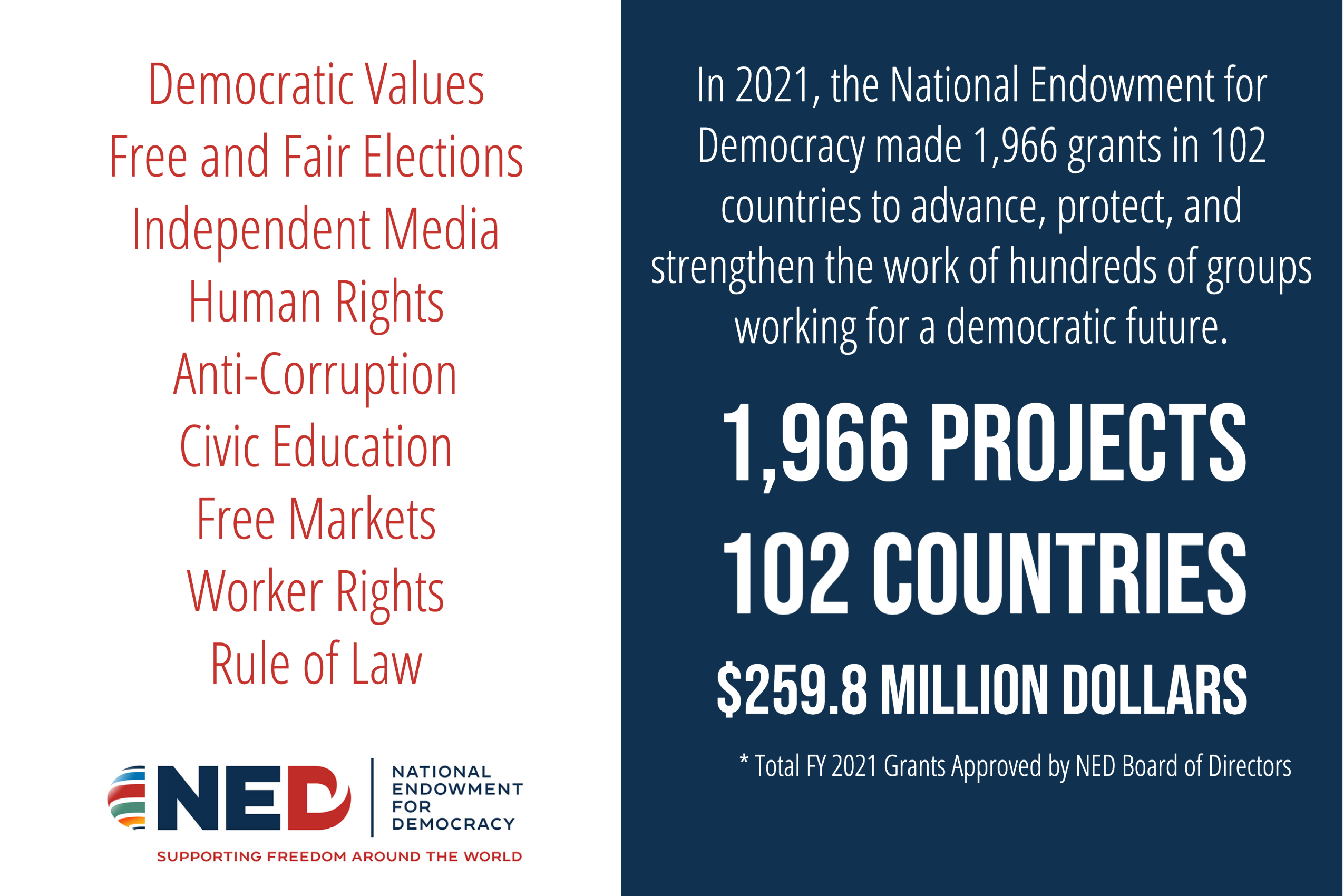 The world around us also changed. And for those striving for a democratic future in every part of the world, the trends did not look good. NED Board member Anne Applebaum recently warned in The Atlantic that "the bad guys are winning," dubbing the coordinated efforts of countries like China and Russia to constrain and threaten democracy worldwide "Autocracy, Inc."
But as Carl Gershman reminded us earlier this year at a symposium honoring his service, "NED is built for tough times." I came to fully understand the truth of these words when the crisis in Afghanistan unfolded. During my first trip as NED president in August to Mexico, Kabul fell to the Taliban. In between meeting Mexican and Cuban grantees and visiting core institute offices, we launched a major evacuation of our Afghan partners and core institute staff.
I witnessed first-hand the passion and dedication NED staff bring to our mission and their commitment to our partners and grantees when, overnight, scores of staff from every department volunteered to work around the clock for months to ensure the safe evacuation of as many threatened Afghan partners, friends, and family as possible. NED's bipartisan Board of Directors also shone in this moment, leveraging every resource and relationship available to accomplish this life-saving work. We ended the year proud that our efforts helped 923 Afghans find safety outside their homeland, even as we redoubled our efforts to continue to support civil society inside Afghanistan.
The Endowment is deeply grateful that new democracies, like Albania, North Macedonia, Kosovo, and Georgia quickly and graciously agreed to give temporary safe haven to evacuees from Afghanistan as they await permanent resettlement. Their generosity was the reason for my December 2021 trip to Albania, where approximately 300 hundred NED partners and family members are sheltered.
NED grantee ArtLords coordinated the painting of a mural in Tirana to express their gratitude to the people of Albania. With the support of Prime Minister Edi Rama, who is also a prominent artist, I was honored to join Albanian Foreign Minister Olta Xhaçka and Tirana Mayor Erion Veliaj in the creation of the mural, shoulder to shoulder with our Afghan friends. I was also inspired to see how our grantees and partners in Albania have joined the effort to assist these fellow democratic activists to rebuild their lives and continue their work.
It is this kind of collaboration and solidarity that is the key to reinvigorating the worldwide movement for democracy. And it forms the basis of NED's plan to meet this moment by adapting for the future. As freedom is under intensifying pressure globally, NED is innovating to face emerging complex challenges to democracy. We are adapting so we can better nurture the democratic resilience and unity required for democratic renewal.

At an event hosted by NED in conjunction with the December 2021 Summit for Democracy, I spoke with longtime NED partner Maria Ressa, who two days later accepted the 2021 Nobel Peace Prize for her courageous investigative journalism in the Philippines exposing the abuses and corruption of the Duterte regime, fighting rabid and dangerous disinformation, and sounding the alarm worldwide about the abuses of technology and the dangers they pose to democracy.
Maria said we are at a "sliding-door moment," where the choices and actions we take will determine the course of human rights and democracy around the world. I couldn't agree more.
The National Endowment for Democracy is poised to take action in 2022 to Rebuild Democratic Momentum in cooperation with our core institutes, IRI, NDI, CIPE, and the Solidarity Center, as well as our vast network of grantees, funders, thinkers, and like-minded allies and partners worldwide. Indeed, we share NDI chair Madeleine Albright's optimism in her recent Foreign Affairs article, "The Coming Democratic Revival" that "democracy is not a dying cause; in fact, it is poised for a comeback."
As the Endowment family continues to adapt and change—to innovate, pivot, and scale our efforts—other critical factors will remain constant: our democratic values; our bipartisan and open community, which includes Republicans and Democrats, business and labor; our global approach; and our belief that freedom is a universal human aspiration.
The pathway to a democratic renewal begins by supporting those on the front lines of the fight. Whether an anonymous blogger, an imprisoned human rights defender, a next generation political leader, or a Nobel Peace Prize-winning journalist, all under pressure from autocrats. Whether it is Ukraine, Taiwan, Hong Kong, Cuba, Russia, Sudan, Burma, Venezuela, or the Uyghurs of East Turkestan, who are all at the epicenter of the fight for freedom today, we need to draw on the strength, resilience, and determination of these courageous democrats to regain our footing and to rebuild democratic momentum with our efforts grounded in democratic solidarity and a commitment to act together in common cause.
~ NED President and Chief Executive Officer Damon Wilson