July 2019

news from the network of Democracy research institutes (NDRI)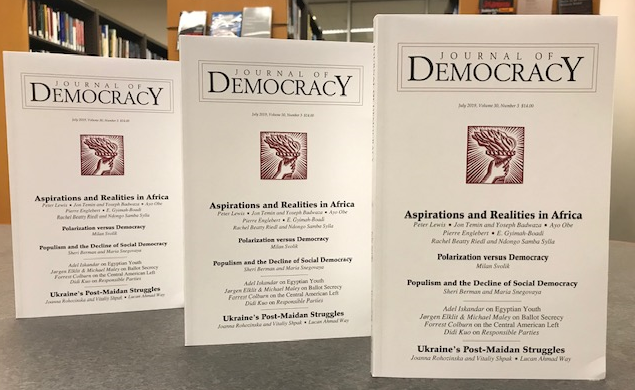 The July 2019 Journal of Democracy features a cluster of six articles examining recent political trends in sub-Saharan Africa. Peter Lewis highlights democracy's resilience in the region and examines the challenges it faces; E. Gyimah-Boadi argues that the "supply" of democracy by political elites has not kept up with popular demand; Rachel Beatty Riedl and Ndongo Samba Sylla explore how Senegalese president Macky Sall secured reelection; Ayo Obe assesses the new anti-fraud measures and solidifying two-party system that shaped Nigeria's recent elections; Pierre Englebert explains how an apparent last-minute deal with an opposition contender allowed the Democratic Republic of the Congo's outgoing president to prolong his influence; and Jon Temin and Yoseph Badwaza analyze rising ethnic tensions and the prospects of liberalization in Ethiopia. The July issue also features articles on the state of democracy in Ukraine, how digital satire is keeping dissent alive amid Egypt's hardening authoritarianism, ballot secrecy in an age of remote voting, and more.
Through August 15, view the full contents of the newly released July 2019 issue free of charge at Project MUSE.
---
MULTIREGIONAL
The International Forum for Democratic Studies (United States) launched a series of working papers examining emerging challenges to democracy in a globalized era. "Pushing on an Open Door: Foreign Authoritarian Influence in the Western Balkans," explores the growing influence of Russia, China, Turkey, and the Gulf States in the Western Balkans," and "To Catch a Kleptocrat: Lessons Learned from the Bien Mal Acquis Trials in France" offers lessons for civil society organizations interested in pursuing strategic litigation to combat transnational kleptocracy.
The V-Dem Institute (Sweden) is looking for Country Experts who are willing to contribute to making the largest data set on democracy even better in the future by assisting with the next update in January 2020. A full list of V-Dem's working papers is available here.
Writing for the International Forum's Power 3.0 Blog, Eileen Donahoe and Megan MacDuffee Metzger outline "An Intelligent Human Rights Agenda for Artificial Intelligence," and Edward Lemon discusses "Authoritarian Influence in International Organizations: The Case of Interpol."
AFRICA
A briefing paper by the Ghana Center for Democratic Development assesses the appointment processes of chief executives of municipal districts and analyses the extent to which it was done in conformity with the law and constitution, particularly its consistency with democratic governance norms.
Reflecting on the recent T20 Summit in Japan, CDD-Ghana's Kojo Asante asks if the theme for this year, "Seeking a Sustainable, Inclusive and Resilient Society" represents a shift in international thinking towards/on development.
Scores of citizens' election observer groups and election experts in West Africa gathered at the West African Election Observers Network (WAEON) Conference in Accra to strategize on how to navigate challenges associated with technology-driven elections in a bid to inject credibility into electoral processes.
Recent Afrobarometer survey data covering 34 countries across Africa's main geographical regions shows that: Africans see their individual freedoms diminishing, and many are willing to give up at least some liberties in the name of security; popular support for media freedom is now in the minority, exceeded by those who would grant governments the censor's pencil; and that most Africans support democratic elections as the best way to choose their leaders – if they see their previous elections as free and fair, and especially if those elections produced a change in leadership.
Afrobarometer's survey also indicates that the Cape Verdeans want more government action against corruption, and that deep economic discontent underpins mass movement for change in Sudan.
ASIA AND THE PACIFIC
The East Asia Institute (South Korea) published three working papers: "From Big to Powerful: China´s Quest for Security and Power in the Age of Innovation;" "China's Digital Transformation and Its Implication for the Asia-Pacific; and "Populism in Taiwan: a Bottom-up Model."
Speaking on the International Forum's Power 3.0 podcast, Samantha Hoffman discusses "China's Technology-Enhanced Authoritarianism."
EUROPE
The Access to Information Programme (Bulgaria) presented the findings and conclusions from its annual Access to Information in Bulgaria report, which contains recommendations related to the access of the information legal framework and its implementation.
The Prague Security Studies Institute (Czech Republic) convened its Fifth Space Security Conference on June 9-11, 2019. The event focused on the rapidly advancing threats to space operations and the role of space partnerships in addressing the higher risk environment. At the conference, PSSI released its report, "State Actor Strategies in Attracting Space Sector Partnerships: Chinese and Russian Economic and Financial (E&F) Footprints" and published a comparative analysis of economic relations between China and the Visegrád countries + Serbia created within the framework of the project "Comparative Analysis of the Approach Towards China: V4+ and One Belt One Road." The report reveals that concerns about China's impact on national security will be a critical factor in the success of the "Belt and Road Initiative (BRI)".
PSSI's project on the Western Balkans released its final publication, "Western Balkans at the Crossroads: Assessing Influences of Non-Western External Actors."
The Institute of Public Affairs (Poland) published four reports: "Women in Local Politics in Poland: Strategies of Political Parties in the 2018 Local Government Elections;" "At the Oars and at the Helm: Women in Polish Foreign Policy;" "In the Grip of Authoritarian Populism: Polish Attitudes to an Open Society;" and "Common Direction, Different Perspectives: Polish and German Views on their Mutual Relations, Europe, and the World Order."
Writing for the International Forum's Power 3.0 Blog, Katarína Klingová on "A Ray of Hope in the Haze: Disinformation in the Slovak Presidential Election."
LATIN AMERICA AND THE CARIBBEAN
The Human Rights in Foreign Affairs seminar, organized by the Václav Havel Institute of the Center for the Opening and Development of Latin America (CADAL, Argentina), was held on May 6-10, 2019. CADAL also organized an event on "The Electoral Argentina," with Fernando Laborda, chief editor of the newspaper La Nación, that analyzed the 2019 electoral perspectives in the country; and a conversation Cuban historian and political activist Manuel Cuesta Morúa on "The Fight for Democracy and Human Rights in Cuba."
On June 6, 2019, CADAL and the French Alliance of Buenos Aires organized a conference on "Challenges to Democracy in Latin America," dedicated to the analysis of democratic governance and economic performance, electoral processes in 2019, and the migration and human rights situation in Latin America. On June 17, 2019, CADAL and the Konrad Adenauer Foundation organized a conference on "The Humanitarian Crisis in Venezuela and International Law" in Montevideo.
Writing for the International Forum's Power 3.0 Blog, Armando Chaguaceda and Maria Werlau examine "Cuba's Efforts to Shape Debate in Latin America."
MIDDLE EAST AND NORTH AFRICA
According to Afrobarometer, about one-third (36%) of Moroccans say "some" or "many" refugees, migrants, and other displaced persons should be allowed to live in the country.
The Lebanese Center for Policy Studies issued a policy brief on "Preventing Violent Extremism in Lebanon."
---
Democracy Research News is the electronic newsletter of the Network of Democracy Research Institutes (NDRI), a membership association of institutions that conduct and publish research on democracy and democratic development. It is one of several functional networks associated with the World Movement for Democracy. To submit comments or to inquire about joining the Network, please write to NDRI Associate Director Melissa Aten at melissaa@ned.org.