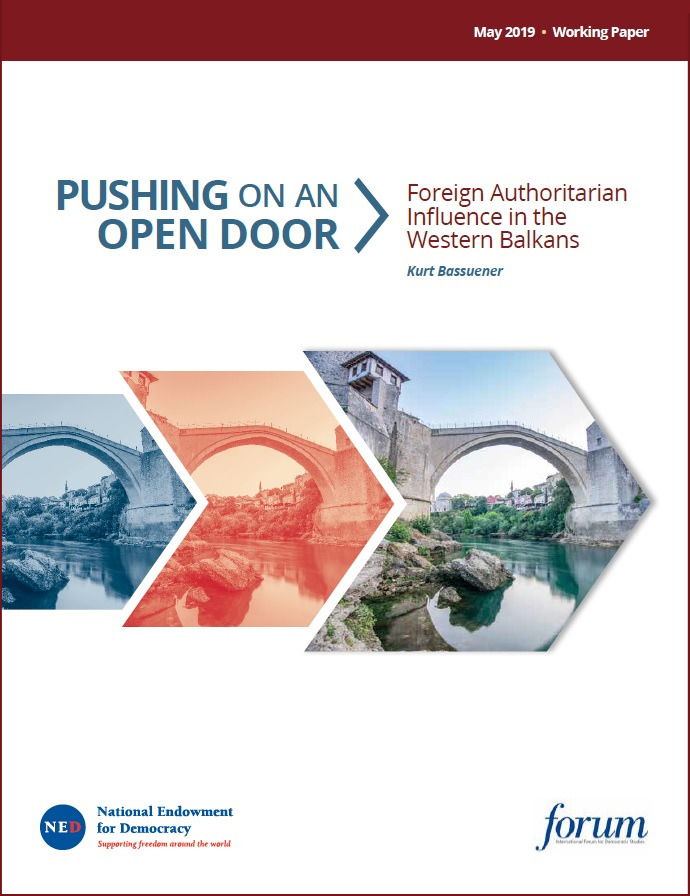 "Pushing on an Open Door: Foreign Authoritarian Influence in the Western Balkans," authored by Kurt Bassuener, is a working paper produced by the National Endowment for Democracy's International Forum for Democratic Studies.
This publication is part of a new International Forum working paper series, examining the dynamics and impact of resurgent authoritarian influence in the era of globalization, including through networked transnational kleptocracy and manipulation of the global information space. For more on these themes, visit the Forum's blog, Power 3.0: Understanding Modern Authoritarian Influence, and its related podcast.
executive summary
Nearly two decades after the cessation of violent conflict in the Western Balkans and efforts by the international community to support democratic reform, analysis suggests that most countries in the region are losing ground on the rule of law, media freedoms, and democratic accountability more generally. State capture, erosion of independent media, and the growth of corrupt patronage networks are features of this landscape.
Meanwhile, authoritarian powers such as Russia, Turkey, China, and several Persian Gulf states are exerting greater influence in the Western Balkans, with the effect in certain respects of corroding the integrity of democratic institutions. They bring significant economic and political leverage and have focused efforts on developing strong relationships with governments in the region. But their footprint extends to the wider societies through state media initiatives whose narratives intersect with and amplify illiberal narratives, while bolstering unaccountable governance systems throughout the region.
Key Issues
Governments in the Western Balkans are generally able to insulate their agendas from media scrutiny by exercising control or heavy influence over public broadcasters, commercial media with partisan alignments, and other private outlets that depend on state advertising or favorable regulatory decisions.
Outside authoritarian actors and local illiberal elites are building relationships that amount to a de facto alliance—initially tactical, but increasingly strategic—between those with a joint interest in weak democratic safeguards. For Balkan elites, this opens new vistas of personal enrichment, as well as opportunities for arbitrage with an increasingly nervous West.
The authoritarian states active in the Western Balkans today fall into two distinct groups in terms of the nature of their engagement and intent. The differentiation might be described as grafting (Russia and Turkey) versus grifting (China and the Gulf states).
Impact of Foreign Authoritarian Influence
Russia: The region's political regression and unfulfilled reform agendas have provided Moscow with opportunities to promote friction and fragmentation. A hallmark of the Kremlin's policy has been the exploitation of cleavages to advance its goals of establishing control over energy infrastructure, as well as impeding the expansion of NATO, and more recently, the EU. Where Moscow's interests play into social and political conflicts, the interests and sentiments of local ruling elites often act as natural force multipliers.
Turkey: As with Russia, the trajectory of Turkish engagement in the Western Balkans correlates with the country's domestic political conditions and the perceived interests of its leadership. Turkish engagement in the Balkan media sphere seems aimed at promoting President Recep Tayyip Erdoğan and his policies, in addition to further developing favorable relationships with the region's governments. Turkish state media contribute to an information environment in which local citizens are surrounded by propaganda from numerous and often conflicting outside players and agendas, feeding into an existing, widespread sense of cynicism about the integrity of the press and democratic institutions.
China: Chinese investment in the region may seem like an easy way for Balkan leaders to maintain their ecosystems of power, but it could allow Beijing to gain far greater economic and political leverage in the future. The political alignment of most regional media has impeded broad and independent public discussion of China's activities—Beijing's media messaging agenda and that of local political leaders largely coincide. Beijing's largesse also comes with an expectation of self-censorship and conformity regarding sensitive topics, and its outreach efforts effectively promote China's authoritarian political system. China's way of doing business—opaque deal-making with established political elites, enabled by a high tolerance for corruption—exacerbates existing problems surrounding transparency and accountability in the Western Balkans.
Gulf States: Although relatively limited until recently, increasing investment from the Gulf has targeted local government elites who can ensure that projects proceed without due diligence or public transparency. While the Gulf states' media presence and outreach has been less sizeable than that of other authoritarian regimes, they have been used to push back against local concerns about their investments in the region.
All of the authoritarian actors analyzed employ a mode of governing through personalized power that blurs the line between public and private resources. This has deep congruence throughout the region, where institutional mechanisms meant to ensure accountability and enforce the rule of law remain shallow. Opaque deal-making is notably facilitated by the weakness of independent media in the host countries, where Balkan political elites tend to dominate domestic media narratives through control of major broadcast stations and other key outlets. Under these conditions, authoritarian powers attempting to exert influence on leaders and publics through state media initiatives in the Western Balkans are pushing on an open door.
While the direction and development of the societies in the Western Balkans will ultimately depend on the will of their citizens, external support for local advocates working to legally entrench democratic accountability is still essential. The Western Balkans are a front in what amounts to a world war of values, and the forces of democracy cannot afford to abandon it.
Those in the established democracies and in the Western Balkans who hold democratic rights and human freedoms dear need to make common cause. Indeed, their challenges are intertwined: Many familiar features of the Western Balkan media and public space are now on the rise across Europe and North America. The struggle to build accountable democracy in the Western Balkans is not separable from the defense of democracy in the rest of the world.
Image Credit: Dennis Jarvis / Flickr