The Board of Directors of the National Endowment for Democracy (NED) unanimously voted to approve Damon Wilson as NED's next president and chief executive officer. Wilson succeeds Carl Gershman, who has led the Endowment since its founding in 1983. He will officially join the Endowment later this summer.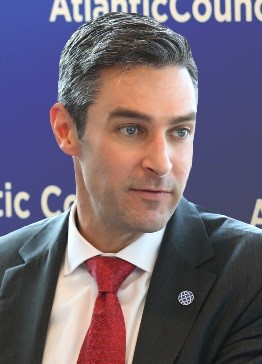 "The Endowment will be fortunate to benefit from Damon Wilson's leadership and expertise," said NED Chairman Kenneth Wollack announcing the appointment. "His years of service, both in and out of government, have earned him an expert understanding of international relations and the current challenges to democracy worldwide. This experience and his keen awareness of the intersection of American interests and values make him particularly well-prepared to lead NED's work supporting freedom and democracy around the world."
Mr. Wilson currently serves as Executive Vice President of the Atlantic Council, a role he has held since 2011, overseeing Council strategy and managing its 14 centers and programs. Earlier, Wilson served as Special Assistant to the President and Senior Director for European Affairs at the National Security Council (2007-2009). He was Executive Secretary and Chief of Staff at the US Embassy in Baghdad (2006-2007), where he helped manage one of the largest US embassies during a time of conflict. Prior to this posting, he worked at the National Security Council as the Director for Central,
Eastern, and Northern European Affairs (2004 to 2006) and served as Deputy Director in the Private Office of NATO Secretary General Lord Robertson (2001-2004). He has also worked in the Department of State's Office of European Security and Political Affairs, on the State Department's "China desk," and at the US Embassy in Beijing. Wilson also served with Save the Children in Rwanda from 1995-1996.
"Having served with Damon in the White House, I know that he will be a capable successor to my dear friend and colleague Carl Gershman," said NED's immediate past chairman Andrew H. Card, Jr., who was Chief of Staff to US President George W. Bush. "The NED is a unique, bipartisan institution that is deeply respected both in Washington and abroad thanks to the leadership of Carl Gershman. I am confident that Damon Wilson will be an excellent steward of the institution in the years to come."
"I've known Damon Wilson for some time and have the highest regard for him," said Gershman, who announced his plan to retire earlier this year. "He brings to the NED a first-rate intellect, the capacity to manage a growing and increasingly complex institution, an understanding of the challenges of democratic development, and a commitment to solidarity with frontline democracy activists. I'm confident that the NED will continue to prosper under his leadership."
Commenting on Carl Gershman's visionary leadership, Chairman Wollack said, "Carl has not only led the Endowment for nearly four decades, but also helped to build, sustain, and shepherd a global democracy movement. He is a friend to thousands of courageous democrats around the world who promote and defend fundamental political and human rights. The Endowment is deeply grateful for his many years of service to this mission."
About the National Endowment for Democracy (NED):
The National Endowment for Democracy (NED) is an independent, nonprofit, grant-making foundation dedicated to the development and strengthening of democratic institutions around the world. NED, along with four core institutes­—the National Democratic Institute, the International Republican Institute, the Solidarity Center, and the Center for International Private Enterprise—provides assistance to strengthen democratic institutions and political processes; trade unions; free markets; and business associations, in addition to supporting a vibrant civil society that support human rights, an independent media, and the rule of law. With an annual appropriation from Congress, NED funds more than 2,000 grants in 100 countries. NED's grants program is augmented by the International Forum for Democratic Studies, a research center that publishes the Journal of Democracy; the World Movement for Democracy; and the Center for International Media Assistance.
Media Contacts: