China maintains its zero-COVID approach to managing the COVID-19 pandemic, amid the 2022 Beijing Olympics and a growing number of cities placed under lockdown.
Public support for democratic institutions and human rights declined around the world over the last year, continuing a worrying trend according to the Center for the Future of Democracy.
Government regulation, foreign-sourced misinformation, and citizen movements have combined to create difficulty as countries work to increase their vaccine uptake.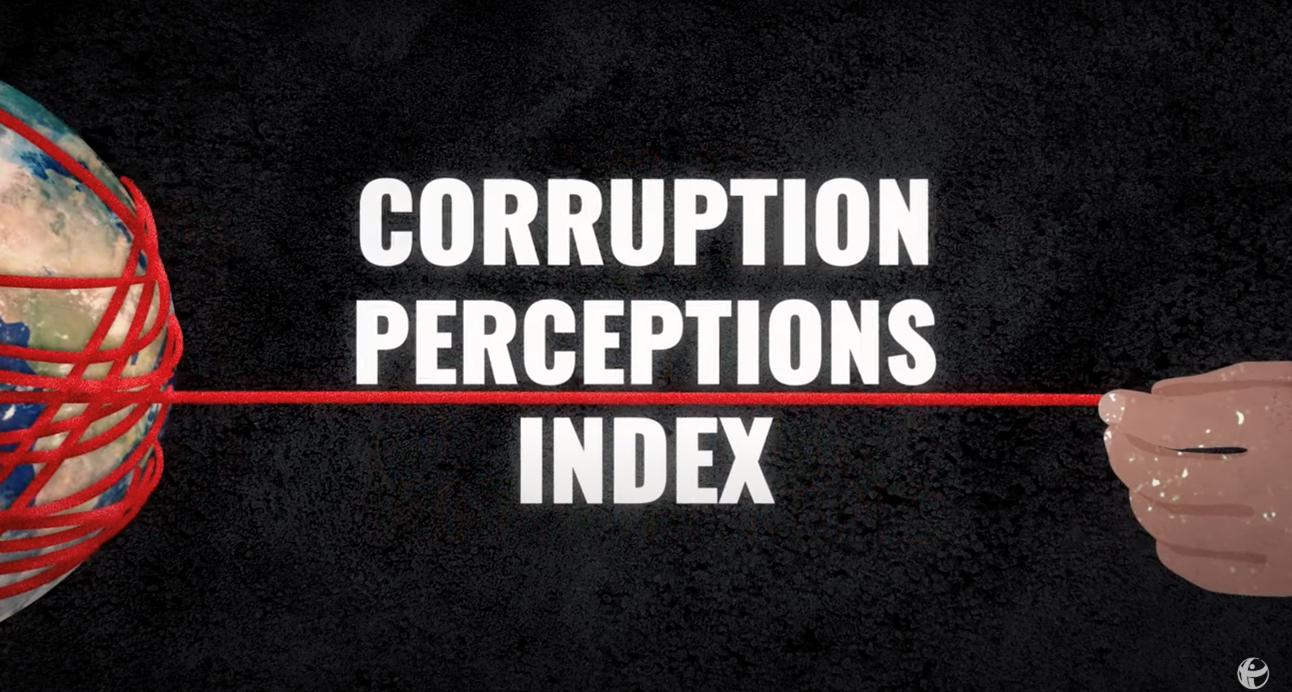 Image Credit: Transparency International's 2021 Corruption Perceptions Index.
Check out the index
.
How the COVID-19 Pandemic Exacerbates Corruption
Around the World
Corruption has flourished during the COVID-19 pandemic. In the rush to respond to the COVID-19 crisis, many countries implemented quick responses and in turn, relaxed public procurement and spending procedures and weakened anticorruption and oversight bodies. In the flurry of activity, however, these crucial transparency and accountability mechanisms eroded, allowing corruption and kleptocracy to flourish. Transparency International's Corruption Perceptions Index this year shows that the global initiative to combat corruption has remained at a standstill for the tenth year in a row. Nearly two-thirds of countries scored dangerously low on the index and 27 countries have fallen to their lowest standing since the index began in 2012.
Corruption is not a new phenomenon during public health crises. Amid the 2014 Ebola crisis, an estimated 30 percent of relief funds were lost to fraud and corruption in Sierra Leone alone, and several countries suffered from mismanaged distribution of critical medical resources and fraud. Corruption often plagues the critical logistical and infrastructure sectors needed to implement an effective pandemic response.
The COVID-19 pandemic has exacerbated global corruption. The socioeconomic crisis put underfunded and looted public service infrastructure, such as the healthcare sector, under further strain. Corruption and kleptocracy undermines economic recovery from the COVID-19 pandemic and related lockdowns. Moreover, corruption deepens socioeconomic inequality and degrades public trust in institutions, triggering an endless and vicious cycle of government fraud and malfeasance.
To mitigate the problem worsened by COVID in low-income countries, multilateral financial institutions have stepped in to provide pandemic relief, often with few oversight mechanisms. According to the Coalition for Global Human Rights Development's Gretchen Gordon, millions of relief dollars have gone missing from several countries, with little accountability and transparency mechanisms in place to retrieve these funds. In Cameroon, Burma, Equatorial Guinea, and the Democratic Republic of Congo, corrupt leaders have hidden where relief aid has been designated and seized on opportunities to enrich themselves with this economic aid.
Angola's ongoing battle with transnational kleptocracy has hindered the necessary development response needed, as the Angolan government solicited donations to address the crisis while "luxury cars flowed into the state." A massive influx of pandemic relief funding in El Salvador has crafted a ripe scenario for corruption to take hold and flourish, including a $50,000 office remodel, kickbacks from public spending on "medical supplies" linked to ceramics and rubber boots, and the removal of information on government contracts during the Bukele presidency after the shutdown of a government website. In several other countries, such as Brazil, Italy, Zimbabwe, and Indonesia, government officials were caught for accepting bribes or defrauding public institutions amid the health crisis.
While these acts of domestic corruption are often viewed as an internal domestic peril that reduces state capacity, they also carry transnational consequences and play into wider risks to regional and international security. As corrupt and kleptocratic regimes seize control of public revenue, social services are rendered inadequate and unable to respond to public needs. Such developments often lead to social unrest and sow the seeds for insurgency and violence.
Systemic corruption also exacerbates humanitarian crises. During the COVID-19 pandemic, communities have been left vulnerable to the socioeconomic consequences of the virus, further worsening the severity of the crisis. Corrupt actors and their cronies siphon off aid funding and steal critical supplies, leaving vulnerable and at-risk populations around the world with little to no assistance or course of reprieve. The Africa Times editorial board notes that "the impoverished and the unfortunate slip through the cracks." COVID-related corruption poses significant risks to communities and worsens the ongoing global democratic backsliding. As the pandemic enters its third year, addressing these challenges is more important now than ever.
– Ryan Arick, Assistant Program Officer, International Forum for Democratic Studies
How Covid Shaped the Ukraine Flare Up (Coda Story): With the prospect of a Russian invasion of Ukraine looming, Coda Story's Natalia Antelava detailed how the COVID-19 pandemic might have precipitated the impending conflict. The crisis dealt a severe blow to unity and cooperation in the European bloc, as countries closed their borders, competed for medical resources, and worked to mitigate economic collapse. The coronavirus also ushered in closer cooperation between Beijing and Moscow, which Antelava argues emboldened Putin to escalate the current crisis.
As U.S. 'Trucker Convoy' Picks Up Momentum, Foreign Meddling Adds to Fray (NBC News): In Canada, a group of protestors have organized in opposition to COVID-19 restrictions and vaccine mandates, calling themselves the "Freedom Convoy." The group has used social media to organize demonstrations and protests. According to Facebook, some of the social media groups that have emerged to promote an American version of the convoy are run by fake accounts tied to content mills in Bangladesh, Romania, Vietnam, and other countries. These trends track other foreign influence campaigns to manipulate public opinion around the COVID-19 pandemic.
The Great Reset: Public Opinion, Populism, and the Pandemic (Centre for the Future of Democracy): Public support for populism and faith in democratic institutions declined over the course of the pandemic, according to a recent report by the University of Cambridge institute. From the spring of 2020 through the final quarter of 2021, approval ratings for populist leaders decreased by approximately ten percent due to their mismanagement of the health crisis and a decline in anti-establishment ideology. Despite this trend, there has not been a "renewed faith" in liberal democracy, according to the researchers. Respondents were less likely to indicate that democracy was the preferred model of governance, and satisfaction with democratic values remained below long-term averages.
China's Vaccine Diplomacy in Brunei: Boon or Bane? (The Diplomat): China's shipments of COVID vaccines to Brunei revealed that PRC vaccine diplomacy yields substantial returns when leveraged in countries with preexisting bilateral ties with Beijing. Brunei's longstanding support for the Belt and Road Initiative and wider diplomatic cooperation provided a foundation for "quid pro quo vaccine diplomacy" in 2021, in which China donated hundreds of thousands of Sinopharm vaccine doses in return for closer diplomatic ties.
Mandatory Covid Vaccination Rules Come into Force in Austria (France24): A first for an EU member, the Austrian government recently enacted legislation requiring that all adults receive COVID-19 vaccines or risk incurring heavy fines. Despite previous restrictions which barred unvaccinated citizens from visiting restaurants, sports stadiums, and cultural venues, Austria's vaccination rate has stagnated. Similar legislation is being debated in the German Parliament. Ecuador, Indonesia, Turkmenistan, and Tajikistan have already put such requirements in place.
WHO Approval for Cuba's COVID Vaccines Would Greatly Strengthen the Cuban Dictatorship (Archivo Cuba): The WHO will likely soon grant approval to as many as three of Cuba's domestically developed COVID vaccines (the island nation currently has five vaccines in various stages of development, three of which have been submitted to the WHO for emergency approval). Archivo Cuba, a nonprofit organization which aims to promote human rights in Cuba, warns that the WHO's approval could bolster the Castro regime by enriching the government, strengthening the regime's influence in recipient countries, and supporting a state-crafted image of Cuba as a major global player in medical technology. For further analysis of Cuba's vaccine diplomacy, see last month's edition of Pandemic Ploys.
This Orchestra's Symphony Found Sweet Harmony During Venezuela's Lockdown (National Geographic): In Venezuela, seventy-five musicians recorded an album, "Sinfonía Desordenada"—navigating pandemic lockdowns, poor internet connectivity, and frequent power outages to do so. The songs denounced corruption, inequality, family separation resulting from mass emigration, and more, amid severe economic malaise and the Maduro regime's crackdowns on dissent in the country. Orchestra director Elise Vegas explained, "this is not pretend hope. There are many people who are echándole pichón [putting their heart and soul into it], and we want to channel that hope."
South Korean Group Receives New Exemption to Deliver COVID-19 Aid to North Korea (NK News): The UN Security Council granted a sanctions exemption to the Inter-Korean Economic Cooperation Research Center, a South Korean NGO, allowing them to deliver twenty thermal imaging cameras to North Korea to help fight the pandemic. The committee also extended a timeframe during which the WHO would be permitted to deliver medical equipment to the country. At the pandemic's outset, North Korea imposed a stringent lockdown and trade restrictions resulting in shortages of critical supplies and widespread food insecurity, although Pyongyang now seeks to return to pre-pandemic trade agreements.
The 2022 Winter Olympics Underway in Beijing Met with Criticism: The Games in Beijing have been marred by the specter of the pandemic and diplomatic boycotts. According to the Council of Foreign Relations' Ian Johnson, the CCP imposed severe lockdowns across the country to demonstrate the success of the PRC's zero-tolerance approach to COVID. Citizens have contended with sudden, long-term lockdowns, which, in some cases, have resulted in disruptions of food and medical supplies. Moreover, ten countries have announced diplomatic boycotts to protest China's treatment of Uyghur Muslims. These developments evoke past criticisms of the CCP and its mistreatment of minority communities in China: NED Senior Program Officer Akram Keram detailed the intense surveillance and restrictions levied on the Uyghur community during the 2008 Summer Olympics.
In China, Covid-Era Controls May Outlast the Virus (New York Times): Human rights lawyers in China believe officials might be abusing the country's pervasive digital COVID-control system to restrict their movements. Two lawyers experienced suspicious changes to their health code apps, which PRC residents must scan to enter public spaces. Authorities may also be weaponizing the app against petitioners who travel to file complaints about officials. Meanwhile a former contact tracing official tells Radio Free Asia that the app is accessing information on residents' purchase histories in order to assign them the rating that determines whether they are able to move freely.
Cross-Country Exposure: Analysis of the MY2022 Olympics App (Citizen Lab): A specially developed app called MY2022, which among other functions includes features similar to the health code app for PRC residents, is among the technological innovations underpinning the operations of the Beijing 2022 Olympics. A recent investigation by Citizen Lab found significant security concerns around the app's transmission of user data. In addition, the app contains a feature allowing users to report "politically sensitive content." Citizen Lab says that these findings, "while concerning, are not particularly surprising for apps operating in China and sometimes apps developed by Chinese companies."
European Democracy Support Annual Review 2021 (European Democracy Hub): The 2021 European Democracy Support Annual Review is the first study of its kind that evaluates Europe's democracy support institutions and programs. The pandemic has presented unique challenges for European governments to support democratic norms. Despite a stagnation of democratic aid by some EU member states, many countries have continued to fund democracy support projects and adopt new initiatives to support "media freedom, investigative journalism, media pluralism, and a media-monitoring system."
---
Thanks for reading Pandemic Ploys, a biweekly newsletter from the International Forum.