Understanding transnational kleptocracy as a vehicle for theft, repression, and democratic erosion…and how we can respond. If you enjoy this newsletter, forward it to a friend or share on social media so that others can subscribe.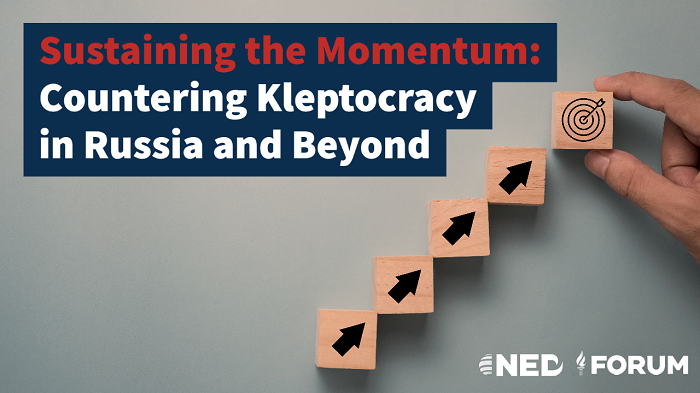 Watch the Forum's discussion with Shannon N. Green, Nikita Kulachenkov, Nate Sibley, and Paul Massaro on sustaining momentum in the battle against kleptocracy after Russia's invasion of Ukraine.
Maintaining Democracies' Anti-Kleptocracy Momentum // October 31, 2022
by Ryan Arick, Assistant Program Officer, International Forum for Democratic Studies
"We talk a lot about the Kremlin playbook on kleptocracy. But what we need is the democratic playbook on counter-kleptocracy" (Nate Sibley). Since Moscow's February invasion of Ukraine, in which furthering kleptocracy along its border was a driver of the Kremlin's decision-making, many democratic governments moved quickly to levy sanctions on Russian elites and address domestic vulnerabilities that enable kleptocratic influence to thrive abroad. How do we build a truly comprehensive international response to avoid future conflicts and stymie other kleptocratic regimes like Russia?
During a recent event hosted by the International Forum entitled "Sustaining the Momentum: Countering Kleptocracy in Russia and Beyond," experts and practitioners discussed how democracies can build such a response. The democratic community's collaborative efforts to increase transparency in the financial sector, leverage sanctions against malign actors, and connect anti-kleptocracy actors across sectors are promising first steps. These bold words and sanctions, however, have proven insufficient to change the regimes' calculus, deter other kleptocratic regimes, and truly stymie these networks' successes. More needs to be done, not just related to the war in Ukraine, but also in the broader global context where kleptocratic networks can thrive.
Last year, the Biden Administration released a presidential memorandum identifying corruption as a core national security threat; the U.S. Agency for International Development (USAID) launched the Anti-Corruption Task Force; and several pieces of legislation have been introduced to target professions in open societies that enable kleptocrats to hide their illicit funds. The ongoing war has explicitly elevated kleptocracy, for the first time, as a major foreign policy and national security initiative for the United States.
USAID Executive Director of the Anti-Corruption Task Force Shannon N. Green (@ShannonNGreen1) discussed the importance of viewing corruption and kleptocracy as transnational phenomena with national security implications, underpinned by political ambitions of supportive regimes. Democratic institutions must be more agile in their efforts to protect global norms and institutions. While authoritarians and kleptocrats undermine domestic political institutions and multilateral standards, Green outlined USAID's current efforts to meet this challenge, which include the launch of a "de-kleptification guide" and a global support fund for independent journalists targeted by frivolous defamation lawsuits, often from kleptocrats and oligarchs.
Democratic allies must build comprehensive strategies that unearth democratic vulnerabilities and safeguard political institutions to address the critical global challenge of illicit finance. To be successful, Nate Sibley (@NateSibley) advocated for a democratic, global economy founded on "friend-shoring," or increasing coalitions among like-minded countries, to protect vital institutions and reduce vulnerabilities to malign influence. Democracies must also be more ambitious in their commitments to combat kleptocracy, both domestically and internationally. For example, they can examine the professional enabling industries that allow kleptocrats to get away with their misdeeds. As the U.S. Helsinki Commission's Paul Massaro (@apmassaro3) urged, if we "can clean those sectors up, we can effectively defang our adversaries." As Nikita Kulachenkov (@nekulachenkov) suggested, they could more clearly publish lists of targeted assets, or appoint commissioners to oversee anti-corruption work and serve as points of contact for civil society and others focused on the fight against kleptocracy.
The coming months of pressure on energy prices during the winter, a lengthened conflict in Ukraine, and inevitable distraction of the world's policymakers by other global events will test the bonds of democratic solidarity that have been strengthened.

Documentary About Kazakhstan's Former Leader Nazarbayev Was Funded by a Nazarbayev Foundation (Organized Crime and Corruption Reporting Project)
In 2021, Hollywood director Oliver Stone released Qazaq: History of the Golden Man, a miniseries that favorably depicts Kazakhstan's former president Nursultan Nazarbayev, despite longstanding allegations against him of extensive human rights abuses, corruption, and repression. Although the filmmakers initially denied any involvement by the Kazakh government, a charitable foundation named after and controlled by Nazarbayev contributed $5 million to the film's production. Kleptocratic regimes frequently use reputation laundering tactics, including media projects backed by opaque government-organized NGOs, to project favorable images of themselves at home and abroad.
Russian Superyachts Find Safe Haven in Turkey, Raising Concerns in Washington (New York Times)
Over the last few months, at least 32 superyachts linked to Russian oligarchs and sanctioned individuals have been sheltered in Turkey, highlighting another tactic that kleptocrats use to evade Western sanctions. Turkey is the only NATO country that did not impose sanctions against Russia following its February invasion of Ukraine. Although many Turkish banks voluntarily opted out of engaging with Russian financial institutions in September, marinas have continued to work with sanctioned entities and provide a safe haven for their superyachts.

Illicit Finance is an Achilles' Heel for EU Security (Politico)
Although the EU sanctioned key targets and rolled out initial anti-kleptocracy measures, comprehensive progress has moved at a "glacial" pace, allowing illiberal states and actors to continue operating with impunity. Using their illicit financial flows, kleptocrats and their cronies are actively undermining European democratic institutions, exerting influence within key cultural organizations, and attempting to sway electoral outcomes. EU policymakers must recognize the shortcomings in their existing anti-kleptocracy strategy and adopt a more comprehensive, multisectoral approach.
Putin's War Machine Funding Is Unscathed by Latest Sanctions (Bloomberg)
Although the United States and other democracies have sanctioned numerous Russian officials, lawmakers, family members, and businesses, such efforts will likely prove insufficient to stop Russia's brutal assault on Ukraine. While these measures send a cautionary signal to those supporting the Russian government and key financial officials, the increase in petroleum prices, a cut in oil production from OPEC, and Europe's delayed cutoff from Russian gas supplies have kept Russia's state-affiliated energy industry afloat. Despite criticism, the U.S. Treasury announced that additional sanctions will not be levied on individuals outside of the U.S. who continue to purchase Russian oil and gas.

The Illicit Finance Threat to Democracies: A Transatlantic Response (Royal United Services Institute)
In 2021, the Royal United Services Institute created the Taskforce on a Transatlantic Response to Illicit Finance (TARIF) to assess Washington and London's understanding of illicit financial flows and influence their strategies. The taskforce argued for the transatlantic response to be underpinned by three key pillars: honesty about shortcomings in current strategies; cross-border collaboration and knowledge-sharing; and ambitious, long-lasting anti-kleptocracy agendas.
One Year On, Pandora Papers Continues to be Anti-Corruption 'Tour de Force' (International Consortium of Investigative Journalists)
The Pandora Papers, a 2021 leak of financial information that shined a light on corruption and other forms of financial crime by leaders and other powerful figures worldwide, continue to spur and shape global anti-kleptocracy initiatives. Media actors and policymakers alike laud the Pandora Papers as a "tour de force" that drew attention to the corrosive threat of transnational kleptocracy and laid the groundwork for legislative remedies. Over 600 journalists across 117 countries contributed to the project, highlighting the strength and tenacity of networked investigative journalism to expose corruption and kleptocracy.