May 2020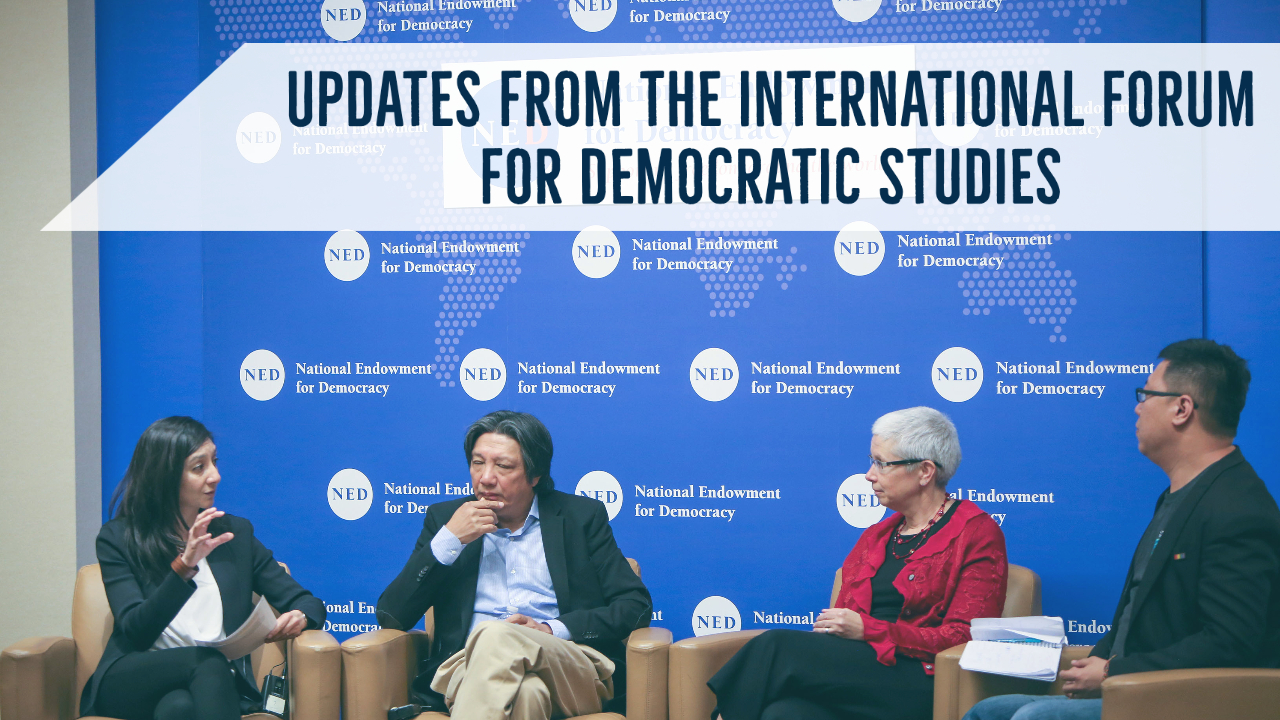 Authoritarian Influence, Democratic Resilience
The International Forum for Democratic Studies published two new reports in the "Sharp Power and Democratic Resilience" series, which systematically analyzes the ways in which leading authoritarian regimes manipulate, distort, and shape the political landscape and censor independent expression within open societies.
"The New Invisible Hand: Authoritarian Corrosive Capital and the Repurposing of Democracy," written by Martin Hála, explores the issue of capital flows from authoritarian regimes that undermine democratic processes and institutions in the recipient countries, and outlines what an interconnected, interdisciplinary response from civil society could look like.
In "Compromising the Knowledge Economy: Authoritarian Challenges to Independent Intellectual Inquiry," Glenn Tiffert analyzes the compromising effects of sharp power on the crucial civil society institutions that democratic societies depend upon for knowledge production, including universities, publishers, and think tanks.
Combating Transnational Kleptocracy
In a new Q&A, Melissa Aten of the International Forum spoke with Drew Sullivan, head of the Organized Crime and Corruption Reporting Project, about how COVID-19 will affect networked journalism and transnational kleptocracy: "How COVID-19 Will Impact Transnational Kleptocracy and Independent Media."
While it is too early to understand the full impact of the COVID-19 pandemic, it is likely that kleptocratic financial flows will receive less scrutiny as global attention is trained on containing and responding to the virus. Mary Beth Goodman, John Heathershaw, J.R. Mailey, and Jodi Vittori answer a Big Question about how the COVID-19 pandemic will affect trends in transnational kleptocracy.
Defending the Integrity of the Information Space
With the COVID-19 pandemic dominating headlines worldwide, the spread of the virus is mirrored by the spread of mis- and disinformation online. In a new Big Question, Cédric Alviani, Graham Brookie, Sarah Cook, Joan Donovan, Nina Jankowicz, and Peter Kreko offer observations on what COVID-19 reveals about the global information environment in times of crisis.
The Forum's Dean Jackson spoke with Aimee Rinehart of First Draft News on how journalists, platforms, and other stakeholders in the information space can respond to misleading information on COVID-19, in a Q&A entitled "Mis- and Disinformation in a Time of Pandemic."
The COVID-19 pandemic has revealed how authoritarian actors are seeking to shape and manipulate media narratives, as Dean Jackson writes in a new Power 3.0 blog post: "COVID-19: A Severe Strain on the Information Space."
Explaining "Beijing's Viral Disinformation Activities," Jessica Brandt draws on her analysis of narratives and topics promoted by Russian and Chinese government officials and state-funded media to discuss the Chinese government's disinformation activities amidst the COVID-19 crisis.
In "Why Disinformation Targeting Women Undermines Democratic Institutions," Lucina di Meco explains how disinformation targeting women in politics limits the political and electoral participation of a significant portion of the population and weakens democratic institutions.
NED Vice President for Studies and Analysis Christopher Walker spoke with Visegrad Insight on how sharp power poses challenges to democratic integrity and the information space in a new interview: "Wikipedia as a Battlefield: Democracies Have to Defend the Information Space in a Global Struggle for Power."
Democracy and Civil Society
International Forum Senior Director Shanthi Kalathil discussed the ways in which many democratically elected leaders have taken extreme, and even undemocratic, measures in response to the COVID-19 crisis while advancing their own political gains, during a Pacific Council on International Policy event entitled "Democracies in Times of Crisis."
The Journal of Democracy published its April 2020 issue, in which contributors review the records of and reflect on the prospects for opposition parties as they confront governing populists. Contributors draw from the cases of Turkey, Ecuador, and Greece, where there has been pushback to populism at the ballot box, to offer lessons for opposition parties in other countries. The issue also includes Xu Zhangrun's stinging indictment of China's authoritarian system and its handling of COVID-19, in which the Chinese party-state repeatedly hid or misrepresented the facts.
In response to the COVID-19 crisis, Johns Hopkins University Press is making all Journal content available free of charge until May 31. Browse the Journal's past issues at Project MUSE.
---