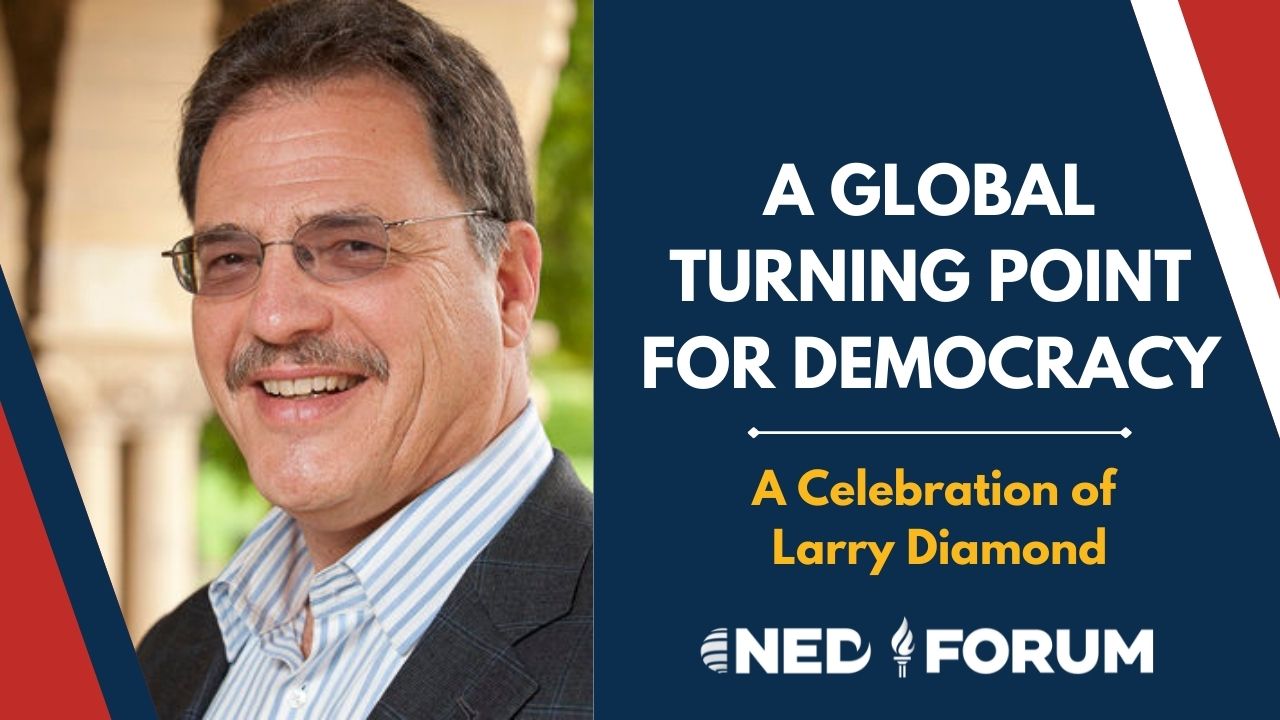 Last month, the International Forum honored Larry Diamond with the Democracy Service Medal in acknowledgment of his many achievements and contributions to the advancement of democracy and human rights.
Leading figures in the field of democracy, including the Journal of Democracy coeditors, William Dobson and Tarek Masoud, discussed Larry Diamond's impact on the study of democracy.
The event also featured a critical discussion on how democratic coalitions and solidarity can address modern challenges to democracy, such as global authoritarian influence and threats to the integrity of the information space.
---
In the International Forum's report, The Global Struggle Over AI Surveillance: Emerging Trends and Democratic Responses, Steven Feldstein assesses the global spread of AI surveillance tools and ongoing efforts at the local, national, and multilateral levels to set rules for their design, deployment, and use.
The essay gives particular attention to the dynamics of surveillance tools in young or fragile democracies and hybrid regimes, where checks on surveillance powers may be weakened but civil society still has space to investigate and challenge surveillance deployments.
Two case studies by Eduardo Ferreyra

and

Danilo Krivokapić

provide more granular depictions of how civil society can influence this norm-shaping process in Argentina and Serbia.
---
In our recently published report, author Oliver Bullough argues that transnational kleptocracy combines "19th-century autocracy with 21st-century finance" to empower dictators to use illicit wealth to corrode both foreign and domestic institutions.

However, while much of the conversation around combating transnational kleptocracy has centered on money laundering, contributors to the latest Global Insights series argue that addressing the vulnerabilities enabled by reputation laundering is critical to countering kleptocratic influence and defending democracy.
At the March 30 public event on "Waking Up to Reputation Laundering as a Mechanism for Transnational Kleptocracy," Oxford University scholar Tena Prelec remarked that "as with money laundering, the reach of tainted money used to launder reputations" affects the very foundation of democracy.
more from the international forum
The International Forum welcomes Adam Fivenson, Senior Program Officer for Safeguarding the Integrity of the Information Space, to the team.
The April 2022 issue | Journal of Democracy
"To Catch a Kleptocrat: Lessons Learned from the Biens Mal Acquis Trials in France" by Tutu Alicante, newly translated into French, Portuguese, and Spanish
"How China is Selling Its Muslim Genocide to the Muslim World" | Nick Monaco and Colin Eide, Power 3.0
"Democracy and Autocracy are Contagious" | Michael Coppedge, Power 3.0
"A Long Shot? Cuba's Vaccines and Medical Diplomacy" | Ariane Gottlieb, Power 3.0
"Transnational Responses to Kleptocracy: The Role of Transit and Destination Countries" | Melissa Aten, International Republican Institute
"It's Time to Shine a Light on Congo's Sassou-Nguesso and His Abuses" | Former Reagan-Fascell Democracy Fellow Andrea Ngombet, African Arguments
"The Kleptocratic Sources of Russia's Conduct" | Christopher Walker, American Purpose
The Big Question: How Can Global Leaders and Civil Society Stem Authoritarian Measures Amid the COVID-19 Pandemic? | International Forum for Democratic Studies
Transnational Kleptocracy Research Guide | Democracy Resource Center
Ukrainian Democrats at Risk: Resources and Support Portal | Democracy Resource Center
---